If Panasonic Quits Plasma, TV Snobs Will Cry
by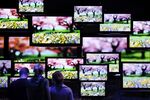 Electronics giant Panasonic has been eyeing an exit from the plasma television market, a turnabout that would unleash wailing cries and gnashing teeth among videophiles.
There's a passionate—if perhaps not very profitable—audience that values plasma displays for offering the best in picture quality among mass-market TVs. "If it is true, it's a heartbreak," says Rob Sabin, editor of Sound & Vision, a monthly magazine that covers consumer audio and video.
A person with direct knowledge told Bloomberg News last week that Panasonic is likely to sell part of its Amagasaki plasma plant near Osaka, Japan, and phase out production in the current fiscal year, which ends in March. But the company hasn't publicly confirmed those plans. "Panasonic's official comment on the recent reports about our plasma business is that the current reports circulating were not announced by us nor have we made any official announcement related to our plasma business," spokesman Chris De Maria said in an e-mail. And that's the gist of it: A curious situation in which Panasonic acknowledges the current plasma dilemma without saying the end is near or pointing instead to a glorious, revitalized future. Panasonic's television business had an operating loss of more than $900 million in the past year.
Quitting plasma would also mark yet another blow for Japan's vaunted television industry, a bastion of innovation that created Sony's Trinitron tube display and the groundbreaking Kuro plasma display from Pioneer Electronics, which itself quit the TV business in 2010 over daunting economics and prolonged losses. Even Sharp, the flagging maker of liquid-crystal displays, has been moving into new niches like strawberry farming. Television manufacturing has rapidly migrated to Korea, Taiwan, and China, largely due to cost efficiencies in those nations—a trajectory not unlike the American experience with once-dominant U.S. TV brands: RCA, Magnavox, Quasar, Sylvania, and Zenith Electronics.
While Panasonic also makes LCD displays, its television business has been an overwhelming bet on plasma that has left the company underrepresented in the biggest-selling segment of the market: 22- to 36-inch models, where plasma is virtually nonexistent. Worldwide plasma TV shipments slid 19 percent in the second quarter this year, according to data from market researcher NPD Group, while LCD sets held a 91 percent market share. All of which led to Panasonic's share of TV sales dropping by one-third in the quarter, worse than the year-over-year declines suffered by Sony, Samsung, and LG Electronics.
Ironically, Panasonic's woes in plasma come just as the company has been collecting accolades this year for producing some of the finest video displays ever seen. Panasonic's 2013 flagship, the ZT60 series, starts at $3,000 and has garnered universally excellent reviews, with writers grasping for superlatives and extolling it as a TV that rivals the discontinued Pioneer Kuro models.
"By every standard we use to measure a great TV, there's a significant quality gap right now between the very best plasmas Panasonic has been producing vs. the best of the LCD televisions," Sabin says. "We've been trying to get our hands on more of them and it's been challenging," says Jon Abt, co-president of Abt Electronics, a large retailer in Glenview, Ill. "We certainly have customers waiting for (Panasonics) just because the reviews are so strong on the product."
As anxious videophiles await official word on Panasonic's plans, there's reason to think that the mourning of plasma could be short-lived. The march of technology is offering a new display format—organic light-emitting diodes (OLED)—that is slowly trickling into showrooms, albeit with prices that are still exorbitant. A 55-inch Samsung model retails for $9,000, while an LG model of the same size is $10,000. The OLED displays are likely to carry plasma's best attributes—deep contrast, a wide viewing angle, and no motion blur—into even higher performance, Sabin says, calling the new technology "sort of a cure-all that brings everything to the table."
But OLED is still a commercial work in progress and far beyond the budgets of most TV buyers. "They're having a lot of trouble right now making the OLEDs bigger than 55 inches or so and getting the kinds of yields in production that they need," says Sabin, who recently reviewed a new Samsung OLED set.
The demise of Panasonic's plasma sets had Ken Pohlmann, a longtime consumer electronics writer, pondering Hamlet in a mournful blog post:
A screen of infinite beauty, of most excellent fancy. He hath shone on me a thousand times. And now, how abhorred he is. Where be your hues now? Your wider viewing angle? Your deeper blacks? Your brightness that was wont to set the room on a roar? Now get you to my lady's chamber, and let her paint a screen an inch thick. Make her look at that.
Before it's here, it's on the Bloomberg Terminal.
LEARN MORE