Haribo's Gummi Bear Billionaire Dies at 90
By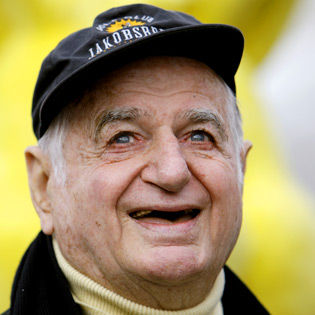 Former Haribo Chief Executive Officer Hans Riegel, the eldest son of the German gummi bear manufacturer's founder (who shared the same name), died on Tuesday at the age of 90. His Bonn-based company continues to make millions of candies worldwide every day.
Haribo, an acronym for "Hans Riegel Bonn," is credited for inventing those legendary, translucent, fruity candies that children eat voraciously despite playground rumors that they stay in your stomach for weeks. The candies are called gummibärchen in German. Haribo's "dancing bear"-shaped gummies, introduced by the elder Riegel in 1922 and the basis for today's iconic bear shape, have spawning a variety of spinoffs, including worms and insects, sharks and penguins, and all manner of cartoon characters. The company has also had success with Fruity Cocktail, Pandas, and Happy Cola gummies.
Haribo, founded in 1920, had grown into a 400-employee operation by the start of World War II, but the global conflict shrunk the company to 30 employees. The younger Hans Riegel and his brother—both prisoners of war—took over Haribo after their father's death in 1945 and rebuilt the company to 1,000 employees within five years.
The fruity bears didn't make it to the U.S. until the 1980s but rapidly became a cultural phenomenon, even inspiring a Disney TV series: Adventures of the Gummi Bears. "Chewy Gummy Bears Spawn a Gummy Mania," read one San Francisco Chronicle article from 1988 that mentioned Haribo competitors making gummies shaped like Garfield and the Care Bears, as well as Dungeons & Dragons-themed candies.
By 2009, Haribo reportedly churned out 80 million bears each day. The company now employs 6,000 people in Germany and other production sites in Europe. It sold about $1.53 billion worth of pastilles, gums, jellies, and chews last year, in addition to $177.3 million of licorice and $93.2 million of other sweets, estimates researcher Euromonitor International.
Riegel's assets totaled $4.2 billion, according to the Bloomberg Billionaires Index. He died today of heart failure in Bonn, the company told Bloomberg in an e-mailed statement, following a successful operation to remove a benign brain tumor.
Before it's here, it's on the Bloomberg Terminal.
LEARN MORE