Chevron on the Attack: The $19 Billion Trial of the Year Starts Today
Paul M. Barrett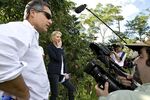 "Trial of the century" and "trial of the decade" are tired cliches. "Tired cliché," come to think of it, is a tired cliché. Still, Chevron's civil-racketeering lawsuit against plaintiffs' lawyer Steven Donziger merits at the very least the "trial of the year" title, as far as corporate legal combat goes.
The trial begins this morning in federal court in Lower Manhattan, and it will be standing-room only in the courtroom. Around the world, the virtual audience will include corporate defenders, human-rights activists, environmentalists, scholars of law and Latin America, and mass-tort devotees of all stripes. Chevron is accusing Donziger of masterminding a conspiracy that culminated in February 2011 in a $19 billion verdict against the San Ramon (Calif.)-based energy giant. The judgment came in a provincial jungle courthouse in Ecuador, where Chevron was found liable for oil pollution committed in the 1970s and 1980s by Texaco, an American company Chevron acquired in 2001. (For more background on the case, check out past Bloomberg Businessweek coverage here, here, and here.)
The case deserves the attention it is receiving because it will help define the extent to which the U.S. legal system can be used to sort out alleged overseas misconduct of American multinationals. It will also help define the extent to which would-be American vindicators of the poor overseas will be held accountable for their alleged misconduct in foreign legal proceedings. Billions of dollars are at stake, as are the unhappy conditions in which tens of thousands of Ecuadorian villagers live. I'll follow the case online and in the pages of this magazine, which later this week will publish a piece explaining how Chevron's lashing out at Donziger exemplifies a new pattern of corporations seeking to crush personally plaintiffs' lawyers who bring sizable liability claims.
For this morning, however, let me leave you with this thought:
As a month or more of fierce litigation commences, we pretty much know how it's going to end. U.S. District Judge Lewis Kaplan, who is holding a "bench trial," without a jury, is going to find Donziger culpable for one or another of several flavors of fraud. I am not a mind-reader—Kaplan has clearly signaled that this is his intention. Most recently, he issued a 104-page pretrial ruling last week warning that he has already determined "there was probable cause to suspect a crime or fraud" by Donziger in connection with the fabrication of scientific evidence, the coercion of one Ecuadorian judge, the bribing of other Ecuadorian judges, and the ghostwriting of a critical report supposedly composed by an independent court-appointed official. For good measure, Kaplan added that he suspects that Donziger's legal team in Ecuador secretly wrote some, or all, of the February 2011 court judgment.
So why are we going through the motions with this trial? Kaplan has been reviewing Chevron's evidence for three and a half years. He has tentatively concluded, without reaching a formal verdict himself, that Donziger violated the rule of law as it is understood in the U.S. For that reason, Kaplan is likely to grant Chevron some version of the relief it seeks: an order that Donziger and his clients cannot benefit from his (alleged) fraud and therefore cannot collect on the Ecuadorian judgment—in the U.S. or anywhere else. Kaplan will also have the option to impose a stiff monetary penalty on Donziger in the form of an order that he reimburse Chevron for some of its legal expenses.
Donziger, who has admitted to some—although certainly not all—of Chevron's accusations, has an intriguing response to all of this. Kaplan, according to Donziger's attorney, Zoe Littlepage,  "is looking at the [Ecuadorian] trial through an American filter, the red, white, and blue filter of the American court system." The Donziger team is going to use the proceedings before Kaplan to try to create a record showing that, however outrageous Donziger's tactics may seem, they were par for the course in Ecuador—and that Chevron played by the same fast-and-loose rules.
Chevron will lay on new layers of evidence that Donziger lied and cheated to achieve a tainted victory. Then the case will go to the U.S. Court of Appeals for the Second Circuit. "A fair forum for this evidence is the Second Circuit, not the trial court," Littlepage said last week. Apparently she and her client, Donziger, believe that the appellate judges who sit on the Second Circuit will not view the goings on in Ecuador through the red, white, and blue filter of the American court system.
That seems like a risky strategy. Given all that's transpired, it may be Donziger's only hope.
Before it's here, it's on the Bloomberg Terminal.
LEARN MORE