Alibaba Nears Facebook Sales With Double the Profit
Lulu Yilun Chen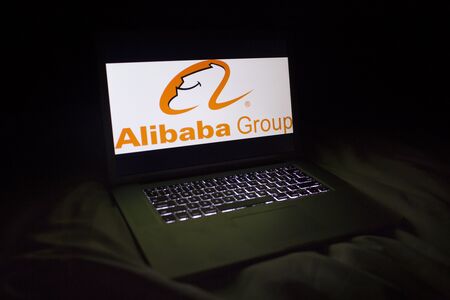 Alibaba Group Holding Ltd., the Chinese e-commerce company heading for an initial public offering, posted revenue and profit that could give it a valuation beyond that of Facebook Inc. when it went public.
Alibaba's revenue surged 60 percent to $1.73 billion in the second quarter, according to a presentation released yesterday by Yahoo! Inc., which owns a stake in Alibaba. Net income attributable to ordinary shareholders more than doubled to $707 million from $273 million a year earlier. Alibaba's second-quarter profit is more than double Facebook's on slightly less revenue.
The Hangzhou-based company provides an online marketplace for consumers and businesses to buy and sell everything from Fuji apples to Boeing Co. 737s. Alibaba, which is considering a U.S. listing after talks with Hong Kong's stock exchange fell apart, has been valued by investment banks at as much as $120 billion, compared with Facebook's $104 billion valuation after its market debut.
"The earnings will help Alibaba achieve higher valuations in the potential IPO," Ricky Lai, an analyst at Guotai Junan International Holdings Ltd. in Hong Kong, said by e-mail. "The main driver for Alibaba is through the use of different platforms or mediums such as instant messaging, Smart TV."
Yahoo, which owns about 24 percent of the Hangzhou, China-based e-commerce operator, said yesterday the maximum number of shares it's required to sell in an Alibaba IPO fell to 208 million from 261.5 million.
Taobao, Tmall.com
Alibaba, formed by Jack Ma and partners in 1999 as an marketplace for Chinese companies, has grown as the wave of economic liberalization spurred a boom in manufacturing and trade. Ma, a former English teacher with a 7.4 percent stake in the company, has an estimated net worth of $3.5 billion, according to the Bloomberg Billionaires Index.
Alibaba doesn't sell merchandise itself. Instead, it runs platforms including Taobao Marketplace and Tmall.com that connect retail brands with consumers, a cross between Amazon.com Inc. and EBay Inc. It makes most of its sales from commissions and advertising.
"The e-commerce momentum was quite strong, especially on the business-to-business market," said Billy Leung, an analyst at RHB Research Institute Sdn. in Hong Kong. "The advertisement market has done really well."
ShopRunner Deal
Alibaba is making acquisitions and adding services such as instant messaging to extend its reach with Web users.
The company is moving toward an IPO in the U.S. after talks for a Hong Kong listing broke down following management's proposal to keep control in a share sale, two people familiar with the matter said in September.
Alibaba is seeking U.S. law firms to help with an IPO and hasn't hired banks yet, said one of the people, who asked not to be identified because the process is private.
Alibaba will go public in 2014, people with knowledge of the matter said this month.
Talks for a U.S. listing come as Alibaba increases its footprint in North America. The company last week led a $206 million investment in retail website ShopRunner, which is run by former Yahoo CEO Scott Thompson.
Ma and partners wanted to maintain control in a Hong Kong listing through a partnership that could nominate a majority of board members. The company had 28 partners as of Sept. 10, Ma said in an e-mail to employees. They include co-founder Joseph Tsai and Chief Executive Officer Jonathan Lu.
SoftBank Stake
To protect the interests of ordinary shareholders, Hong Kong's exchange prohibits IPOs with different classes of shares, a structure that has been used by companies from Facebook to Manchester United Plc in their U.S. initial offerings.
Japan's SoftBank Corp. owns about 37 percent of Alibaba, the wireless carrier said in July.
Evercore Group LLC analysts, including New York-based Andrew McNellis, raised their valuation of Alibaba to $120 billion from $90 billion, according to a July 17 note.
Facebook, the biggest technology IPO of 2012, was valued at $104 billion prior to its listing. Twitter is seeking to raise more than $1 billion in its IPO, people with knowledge of the matter have said.
Alibaba accounted for 70 percent of package deliveries in China last year, Ma said in a letter published in February in a newspaper owned by the State Post Bureau. Sales on its two main platforms reached 1 trillion yuan ($164 billion) in 2012 -- a figure equivalent to almost 2 percent of China's gross domestic product.
The company has expanded lending and secured financing and made acquisitions since Ma flagged the potential IPO last year.
Alibaba closed the general syndication of an $8 billion loan in June, three people familiar with the matter said. In April, the company agreed to pay $586 million for about 18 percent of Sina Corp.'s Weibo, China's largest Twitter-like service.
Before it's here, it's on the Bloomberg Terminal.
LEARN MORE