pursuits
Goodnight, Skinemax: The Death of Soft-Core Porn
By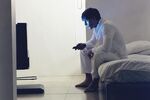 Cinemax, the naughtier sibling of fancy-pants pay-cable network HBO, has declared an end to a nearly 30-year run of Cinemax After Dark, that block of late-night, soft-core porn that is better known to generations of former teenagers as Skinemax. You know, movies with titles like Illicit Dreams or The Price of Desire (or, quite possibly, The Illicit Price of Desire Dreams).
The cable channel is looking to phase out its tales of deception and three-ways in favor of original programming that doesn't so much focus on the T&A. "The hope is that I don't hear 'Skinemax' any time after our original programming—what I'll call the primetime originals—start to really take over the (lineup)," Michael Lombardo, HBO's president of programming, told Variety.
Cinemax After Dark began in 1984, which is also the year that I turned 10, making Skinemax the older brother I never had. Arguably, generations of teenage boys (and perhaps some teenage girls, but it wasn't something you really discussed with them at the time) were first exposed to the erotic arts thanks to Cinemax After Dark. It was there where one could see the works of Shannon Tweed, Monique Parent, Lauren Hays (who's now, apparently, a country singer named Laura Lynn), and Joan Severance. And like attending a triple-A baseball game, you could even catch some former big-leaguers who had been sent down to the minors: Hey, isn't that guy the Beastmaster? Didn't I see this dude in Red Dawn? Wasn't that homeboy in Gremlins?
Skinemax movies were created to arouse and titillate, but the ratio of skin to script always hovered around 50/50 (OK, maybe 60/40). For almost 20 years the programming existed in an era without DVRs; so if you were, say, a 14-year-old boy who had access to a late-night television with a modicum of privacy, you had to actually watch all the parts in between the good stuff. It was, in retrospect, quaint. There was no doubt what the purpose of these movies was, but like the earlier film era of porn captured in Boogie Nights, there was still at least an effort made to create a plot with some characters in it. (Side note: One way you could judge a Skinemax movie was how seriously it took its mission. Was the first scene a sex scene? Was there nudity in the opening credits? Was the director's name obviously a pseudonym, like Simon Sebastian or something?)
Some 30 years later, it now seems obvious that Skinemax was destined to meet its sultry demise. Two competing trends in porn have split the market in two, making Cinemax After Dark an unnecessary option. First, it's not like there isn't something called the Internet out there, which is like a cold-fusion reactor of endless, renewable pornography that can be summoned with little more than a click or tap.
That's the obvious development, but mainstream entertainment has also gotten all sookie-sookie now, too. I've seen things on pay cable's Tiffany network, HBO, that would make Kira Reed blush (I'm looking at you, Boardwalk Empire and Game of Thrones). Showtime's Masters of Sex has all kinds of fanciness surrounding it, but let us never forget that it's still a show about people doing it.
So, goodnight to Skinemax. I never was a hard-bitten police detective investigating a high-priced call-girl ring, and I never hosted a late-night radio talk show with a mysterious caller, but for a few (OK, several) years of my adolescence, Cinemax could let me dream.
Before it's here, it's on the Bloomberg Terminal.
LEARN MORE