Why This $11,000 Bicycle Makes Sense for Hermes
By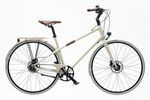 Hermes appears serious about its new motto: "A sporting life!" The Paris-based luxury retailer has just unveiled a line of handmade bicycles that will roll into its stores next month, priced around $11,000 each.
Hermes knows the lush life isn't all silk scarves and seaside lounging. There are polo ponies to ride (saddle, $7,700), poker chips to wager (chip box, $6,100) and petanque balls to pitch (set of three, $1,150). Cycling fits right into that brand of sweatless R&R—rich and recreating.
Luxury retail is a savage game, and finding a new product category is a savvy way to squeeze more sales out of the sector. Selling something like a bike, for example, is probably a lot easier than pitching another cashmere shawl. Hermes has effectively worked the same strategy with its saddles, which have been in high demand this year. The same set of customers isn't likely to flinch at spending a similar amount on a handmade, carbon-fiber bicycle. Plus, Hermes already sells a somewhat more vintage-style cruiser for about half the price.
The company has also been careful to steer clear of the biking crowd. Its new machine is finely crafted and stylish, but serious cyclists won't be swayed from an array of sleeker and more expensive machines. "We wanted to make a real bike that is easy to use," says Francois Dore, managing director of Hermes's Horizons department. Notice the lack of cycling adjectives in that statement; it's not a "fast" bike or a "mountain" bike. It's just a "real" bike—a really nice one. Hermes names it "Le Flaneur," which translates to "the stroller" or "the dawdler." In other words, it's not for the sweaty, speeding masses.
Part of Hermes success lies in its restraint. It doesn't sell a seemingly endless array of opulent products via a crowded house of brands. It picks spots with a fairly curated line. That kind of discipline has kept both its profit margins and annual sales growth around 20 percent in recent years. It's also one of the reasons investors value Hermes more highly than such competitors as LVMH Moet Hennessy and Ralph Lauren.
From that perspective, the bikes might merge nicely with the rest of the Hermes line. But the company should be careful not to stretch its name too widely. It's debatable how much demand might be for a Hermes baseball bat ($1,850) or, worse still, a BlackBerry case ($460).
Before it's here, it's on the Bloomberg Terminal.
LEARN MORE