Google Adds More User Photos to Ads in Joust With Facebook
Brian Womack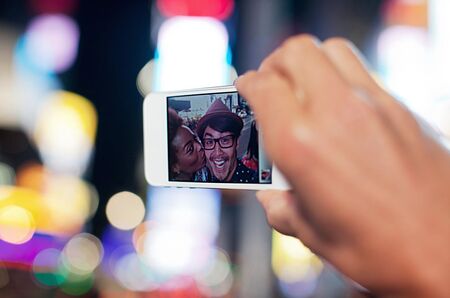 Google Inc. is expanding its use of profile names and photos in advertisements, stepping up competition with Facebook Inc. in social marketing.
Users who endorse a restaurant or give an album a high rating could have their profile information show up as part of an ad that's seen by friends, Google said today on its website. The changes, which go live Nov. 11, were outlined in an update to the company's terms of service.
Google, the world's biggest search engine, is adding social features to its ad products amid increased competition from Facebook and Twitter Inc., which are taking market share. The changes under "shared endorsements" apply to properties such as search, Google Maps and Play, the store for buying digital music, movies and books.
"Feedback from people you know can save you time and improve results for you and your friends across all Google services," the Mountain View, California-based company said in today's post.
Google previously added profile photos and names to promotions after users hit a button called "+1" signaling they liked a page or a search result. With the updates, Google expands that to other types of endorsements, including reviews.
For example, a Web surfer could search for a restaurant and see an ad for a pizza place with a friend's opinion. Or someone's four-star rating on a new album may be visible to a friend who visits the band's page on Google Play.
Privacy Settings
Users under the age of 18 are excluded from the service. The profile information, drawn from the Google+ social network, will only be shown to people who already see the content, and users can adjust privacy settings to block the new feature, the company said.
Privacy is a growing concern as companies including Google, Facebook and LinkedIn Corp. dig deeper into user data. Last month, privacy groups asked the Federal Trade Commission to prevent Facebook from changing its data-use policies, citing concerns on how the information was being used for ads.
"The FTC needs to closely examine this new change in Google policy," Jeffrey Chester, executive director of the Center for Digital Democracy, a Washington-based privacy group, said in an e-mail. This move "reflects the growing and unchecked expansion of online data collection by the industry," Chester said.
Before it's here, it's on the Bloomberg Terminal.
LEARN MORE