Tim Tebow's Second Act
What's next for the young, famous failure?
By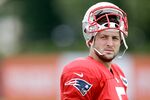 In January 2012, Tim Tebow was king of the world. Over the previous fall, as a second-year quarterback, he led the Denver Broncos on a string of six improbable, increasingly narrow victories. The crowning moment came on Jan. 8, in the opening round of the playoffs, when his 80-yard touchdown pass in overtime capped an upset of the Pittsburgh Steelers. It was peak Tebow: Poster-boy looks, Christian devotion, and athletic prowess wrapped into one American hero.