The Shutdown Is Killing the Republican Party
By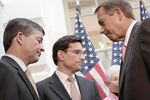 With the government shutdown now in its second week, there isn't a whole lot of movement toward resolution in Congress. But you know what is moving? Republicans' poll numbers. They're moving down. Way down. Last week, I wrote about how the business community is becoming increasingly disenchanted with the GOP. Now a new (post-shutdown) survey from Gallup shows that a lot of other people are, too.
The Republican Party's favorability rating has plunged to 28 percent, the lowest for any party on record. Among other things, this means the GOP is viewed more negatively today than it was during the depths of the Iraq War, the financial crisis, the last debt-ceiling scare, and even Bill Clinton's impeachment (31 percent).

If you probe a little deeper, it's possible to discern why so many people view Republicans so negatively. One big reason is that a plurality of Americans believe the GOP's top priority isn't jobs or deficit reduction but hating Obama. In a new National Journal/Congressional Connections poll, 32 percent agreed with this, more than any other option.
You might think, based on the unified, fanatical opposition to Obama among Republican lawmakers in Washington, that Republicans elsewhere in the country would feel the same way. Well, they don't. Among Gallup's respondents, self-identified Republicans were more than twice as likely to hold an unfavorable view of the GOP (27 percent) than Democrats were of their party (13 percent).
If there's a silver lining for Republicans—there really isn't, but there is some not-outright-terrible news—it's that independents haven't entirely abandoned them. They're hardly winning this vital block of voters, but they're not yet getting crushed: 32 percent of independents hold a favorable view of the Democratic Party, while 27 percent feel that way about Republicans.
But there's no mistaking the fact that the shutdown is killing Republicans. As Gallup notes, "The Republican Party is clearly taking a bigger political hit from Americans thus far in the unfolding saga, with 28 percent rating the GOP favorably—a loss of 10 points from only a month ago."
With no end to the shutdown in sight—the deal that may be emerging in Congress would temporarily raise the debt ceiling but keep the government closed—there's only one direction those numbers are likely to go. As bad as these numbers are for Republicans, they may soon look back on them as "the good old days."
Before it's here, it's on the Bloomberg Terminal.
LEARN MORE