Rising Costs, Protectionism Hit U.S. Companies in China, Says Survey
By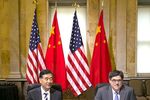 "Tempered optimism"—that's what U.S. companies are feeling when it comes to China, according to a just-released annual survey. After canvassing member companies, the U.S.-China Business Council in Washington, D.C., found some signs of hope but also plenty of worries. (Among the 110 respondents, more than 60 percent were manufacturers, with around 40 percent in services. The Council has 219 members in total, including Apple, Coca-Cola, Dell, and Caterpillar.)
First for some optimism: 90 percent of companies said their China operations are profitable, the highest number ever to report that, according to the survey released on Oct. 10. And while down from 67 percent last year, more than one-half of companies still plan to increase the resources they put into China.
Still, there are indeed plenty of worries and signs that corporate interest is starting to flag. While 96 percent said that China is still among their top five investment priorities, the number that put it at No. 1 declined from 22 percent a year earlier to 15 percent now. And levels of profitability are coming down: While 30 percent of companies said they make more money now in China compared with the previous year, the number in 2012 reporting growing profitability was 55 percent.
The biggest challenge: cost increases, particularly for labor—that's up from last year, when it was only the fourth-biggest concern for companies (last year the top concern was the related challenge of ensuring adequate human resources).
All told, 92 percent of respondents said that higher labor expenses in particular were the biggest cost issue, with 48 percent citing materials as the top cost concern. That was followed by general inflation, land and rental costs, taxes, and energy and utilities, in declining order of largest concerns. "Costs, particularly in major metropolitan areas, are moving to a point that China is no longer competitive," one respondent told the council.
After costs, the second-largest concern was competition from Chinese companies. That was up from being only the fourth-biggest challenge, just two years ago. And while some competition was the natural result of China's slowing economy, it also stemmed from protectionist measures favoring local players, said the American investors. Those measures cited include easier access to government credit, preferential treatment when it comes to licensing, approvals, and public contracts, tax benefits, and lower land costs.
Interestingly, the special treatment is not extended only to state-run companies, according to the survey. Almost all respondents—98 percent—either suspect or have concrete knowledge that China's state enterprises "receive benefits or other favorable treatment not available to foreign-invested companies," the survey said. But the number saying that nonstate Chinese competitors also receive benefits was a still-high 73 percent.
"Comprehensively engaging the Chinese government on competition policy—regardless of SOE or non-SOE ownership—independent regulators, and improved corporate governance may be a more productive approach to level the playing field for American companies," the survey reported.