Russia's Web Payment Czar Looks West
Qiwi machines enable skeptical Russians to use cash online
By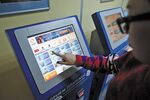 In Russia, cash is still king—even online. That's thanks in large part to Qiwi, a business that lets security-conscious Russians shop and pay bills electronically without having to transmit sensitive bank account or credit card numbers over the Internet. Qiwi customers deposit cash in the company's ATM-style machines and use that money to pay their rent or phone bill—or leave it in PayPal-like online accounts for later.
Launched in 2004, Qiwi has 169,000 terminals in Russia, more than double the number of any individual bank's ATMs. The company produced the first ubiquitous channel for e-commerce in a country with a strong distrust of the banking system. Half of Russia's adults don't have bank accounts. As online shopping became a part of daily life, they needed a quick and easy way to pay bills online, and many of Russia's banks weren't ready to meet that demand, says Qiwi Chief Executive Officer Sergey Solonin. "Not all banks have these large ATM networks," says Solonin, surrounded by Impressionist paintings in his Moscow office. "Operators and banks couldn't handle the increasing number of payments."
Over the past few years, Qiwi has shaped its terminals into one-stop, online shopping access points for its 60 million users. On large touchscreens, customers can top off their online debit accounts, then use their smartphones to buy clothes, reserve train tickets, and make loan payments within minutes. Qiwi has also begun to expand into a mobile payment platform that resembles competitor EBay's PayPal. The site, co-branded with Visa as Visa Qiwi Wallet, has attracted 14 million users. Last year the e-wallet service processed 152 billion rubles ($4.7 billion), charging an average commission of 0.82 percent.
Qiwi takes an average 0.61 percent commission on transactions through its terminals, which handled 465 billion rubles ($14.1 billion) in transfers last year. Users pay higher fees at terminals in certain locations—to the venue's owner in addition to Qiwi—but force of habit has kept customers loyal, says David Ferguson, an analyst at researcher Renaissance Capital in Moscow: "Qiwi is in a strong position because Russians are used to its terminals. That's something PayPal doesn't have."
Solonin says his terminals cost as little as $2,000 to assemble; ATMs run $50,000 or more to build, according to investment bank Robert W. Baird. Solonin's company has kept costs down because of a 2006 gambling ban that left Russia's slot-machine makers looking for work. Also lowering costs: Qiwi, though headquartered in Moscow, is registered in corporate tax haven Cyprus.
Solonin has brought on investors including billionaire Alisher Usmanov's Mail.ru Group and Japan's Mitsui. Since its May initial public offering in New York, Qiwi's shares have jumped 84 percent, putting the company's value at $1.66 billion. Qiwi estimates that revenue will rise 30 percent this year, to 5.5 billion rubles, and earnings will grow 40 percent. Besides fees, it takes in money from digital ads on its terminals.
Qiwi is beginning to expand abroad, with about 11,000 machines spread among Brazil, Kazakhstan, Romania, and even a few in the U.S. At the same time, the company will have to fend off challenges from rivals in Russia. PayPal, which received a Russian banking license in May, now allows users to make withdrawals by transferring money to bank accounts, and last month started accepting payments in rubles as well as dollars. PayPal has also struck deals with popular Russian online stores such as Ozon and KupiVIP. Moscow-based Sberbank, the largest lender in Eastern Europe, absorbed Yandex. Money, Russia's most popular online payment service, into its network in July after buying a controlling stake from search giant Yandex last December. Now users can deposit money into their Web accounts at Sberbank's 65,000-plus ATMs. "Competition will get tougher," says Renaissance Capital's Ferguson.
As Qiwi moves into other countries, it may make its Visa Wallet available for payments at brick-and-mortar shops, but Solonin is stopping short of competing directly with state-run Sberbank for traditional banking customers. While Qiwi has a Russian banking license, which it needs to process payments, the company says it doesn't plan to offer loans, deposits, or cash withdrawals. Yandex.Money CEO Jane Zavalishina says she doesn't see Qiwi as a rival. "We and Qiwi aren't really competing against each other. We are both trying to convince users to shift to online payments," Zavalishina says. Morgan Stanley estimates that Russian e-commerce, about $12 billion last year, will expand 35 percent a year through 2015.
Before it's here, it's on the Bloomberg Terminal.
LEARN MORE