If You Think Enrolling in Obamacare Is Hard
Tech troubles at the U.S.-run health exchange are hitting insurers
By and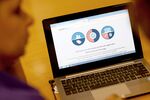 Shopping for insurance on the new exchanges created by the Affordable Care Act was supposed to be as easy as browsing for a plane ticket on Expedia. That wasn't the case for days after the Oct. 1 rollout. The online marketplaces run by states and the federal government were overloaded with visitors. Websites crashed, impeding signups. Some states have resolved the snags; California announced that 28,699 people have applied for health plans online, while 7,000 Kentuckians have purchased coverage.
It's been more difficult to find out how well healthcare.gov, the U.S.-run marketplace that serves 36 states, is doing. The federal government won't disclose enrollment numbers, and insurers reluctant to discuss the rocky Obamacare launch aren't speaking either.
Health-care consultants advising exchanges and insurers are flagging a serious problem with healthcare.gov: It's transmitting bad data to insurers. "What we're seeing in public is the Web portal, which is a mess," says Robert Laszewski, a consultant who works with Blue Cross Blue Shield plans in some states. "It is just as bad behind the wizard's curtain."
Each night, healthcare.gov sends files on new enrollments to insurers. Some files are being transferred with missing data. In other cases, the information being transmitted is wrong; the file says a customer signed up for a plan that doesn't exist in the customer's area, for example. Some files are so corrupted that insurers can't open them. The Department of Health and Human Services declined to comment.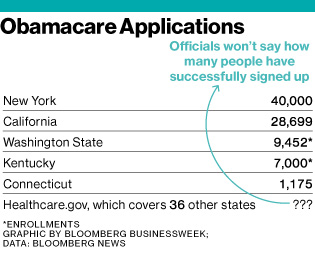 If the bugs aren't fixed, an insurer might enroll customers in plans they didn't sign up for, saddling them with higher deductibles, says Sumit Nijhawan, chief executive officer of Infogix, a data-compliance firm for WellPoint and Cigna. Some people who enroll may even end up without coverage, says Dan Schuyler, a consultant with Leavitt Partners in Salt Lake City. "If we don't see [improvement] in the next two to three weeks, it's time for red flags."
For the time being, insurers will have to call the federal exchange and try to resolve the issues one application at a time. Consultants say that's manageable in these early days, because the number of people who've signed up for Obamacare through the glitchy U.S. site has been small. But the fix won't be sustainable as thousands more log on to healthcare.gov and try to enroll before Jan. 1, when coverage begins. "If you've only got a dozen bad enrollments, that's OK. But what are you going to do when you have 200,000 bad enrollments?" Laszewski says. "The insurance industry is scared to death."
BOTTOM LINE -
The bottom line: If the U.S. doesn't fix bugs afflicting its insurance marketplace, consumers may not get the coverage they expect.
Before it's here, it's on the Bloomberg Terminal.
LEARN MORE