Men's Wearhouse and Jos. A. Bank: What's the Difference?
By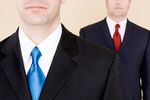 While executives at Joseph A. Bank are trying to decide whether to raise their $2.3 billion offer for Men's Wearhouse, a huge swath of consumers—namely women and guys who have never sought a suit that cost less than $250—is asking a more basic question about the two companies: What's the difference?
It's true, the similarities are striking. Both are discount suit retailers with awkward, retrograde names. Both are worried about keeping up with the trend toward trim, tailored suits and the wave of relatively affordable rivals that offer them, including J. Crew, Hennes & Mauritz, and Suitsupply. How to tell them apart:
Size. Men's Wearhouse is bigger. It's roughly twice the size of its suitor, by a number of measurements. It has about 12,400 employees, vs. 4,600 or so at Joseph A. Bank. Similarly, Men's Wearhouse has about 1,100 stores, compared with its rival's 600 or so. Sales, too: Men's Wearhouse collected $2.5 billion last year to Jos. A. Bank's $1.1 billion.
International flair. While Jos. A. Bank sticks to the U.S., Men's Wearhouse dabbles abroad. It garnered 11 percent of its sales last year in Canada and 8 percent in the U.K.
Shop-by-Mail. In a business that seems to rely on fit, Jos. A. Bank gets a remarkable 11 percent of sales from online and catalog orders. Meanwhile, Men's Wearhouse relies on its stores for sales.
Accessories. In Canada, Men's Wearhouse runs Moores, a 120-store chain. Domestically, it operates about 100 K&G stores, which are aimed at even more frugal customers. It also has a burgeoning business in uniforms (think frocks for pharmacists and vests for bellhops). Under the brands Twin Hill and Dimensions and Alexandra, its uniforms accounted for 10 percent of revenue last year.
Penguins. Both companies are in the lucrative trade of renting formalwear, but Men's Wearhouse has a "preferred" partnership with David's Bridal, and next year it will have similar status with TheKnot.com. Jos. A. Bank, meanwhile, has been renting tuxes for only about three years.
Investors. From Wall Street's perspective, Jos. A. Bank is more attractive on a number of fronts. In the past five years, its return on equity has averaged 18 percent—double Men's Wearhouse. Its profit margin in that time has been 7 percent, compared with 4 percent at its takeover target.