Innovation: Cheap Solar Irrigation
By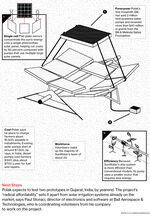 Innovator: Paul Polak
 Age: 80
 Background: Founder of SunWater. Psychiatrist turned entrepreneur
 
Form and function: Startup SunWater is readying an inexpensive solar-powered water pump and crop irrigation system. The goal is to provide farmers in the developing world with an alternative to costly, polluting diesel pumps and multipanel solar systems.