A Texas Land Rush Has Builders Too Busy
Strong employment drives bidding wars in a state that dodged the bust
by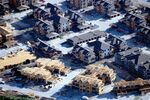 After losing his third battle for a Dallas-area home, Johnny Tseng offered the winner $10,000 to walk away. The buyer declined, and Tseng understands why. "If I were under contract right now and somebody came along and offered me money, I would be hesitant," says Tseng, a 31-year-old financial analyst for a Dallas-based commercial bank. "There just aren't that many options out there."
Known for its open spaces and cheap land, Texas is experiencing the real estate bidding frenzies more common in tightly built markets such as New York and San Francisco. Prices of existing homes in Dallas and Houston are up more than at any time since the oil boom of the 1980s. Homebuilders, caught off guard by the ferocity of demand, are struggling to recruit workers to complete houses.
The number of residential sales across the Lone Star State reached a record in the second quarter. The inventory of existing homes on the market in Houston and Dallas sank to about three months of supply in August, less than the U.S. level of 4.9 months and the lowest since at least 1990, according to data from Texas A&M's Real Estate Center.
The median home price rose 15 percent in Dallas and 14 percent in Houston in August from the previous year, according to the Texas A&M data. "This isn't Texas-like," says John Burns, an Irvine (Calif.)-based real estate consultant. "When the Texas housing market is strong, the homebuilders usually just build more. But the Texas economy is as strong as it has ever been, and the builders can't keep up."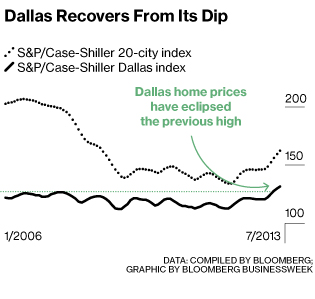 Unlike other U.S. markets where prices are soaring, such as Arizona, Florida, California, and Nevada, Texas isn't just making up ground lost in the housing crash. The state's home prices fell about 2.5 percent from a peak in 2007 to a trough in 2011, compared with a nationwide decline of 20 percent, according to the Federal Housing Finance Agency. The S&P/Case-Shiller 20-city index shows that home prices remain 21 percent below their 2006 peak, while Dallas prices are 4 percent above their previous high.
James Gaines, a research economist at the Real Estate Center at Texas A&M, is concerned rising prices will reduce affordability in Texas, compared with areas such as California and the Northeast, where many people are relocating from. Tseng, a Dallas native who moved back two years ago after living in California's Silicon Valley, says the shortages in his hometown market are beginning to resemble what he saw out West. Still, he's not giving up. "But I'm needing to make certain compromises for the location I want to be in," he says.
Texas homeowners were largely saved from the lending excesses that brought on the U.S. foreclosure crisis, in part because of a state law that limited their ability to use refinancings to take out bigger mortgages, according to a study this year by the Federal Reserve Bank of Dallas. And the state's abundance of land and relatively easy zoning rules allowed builders to move quickly to meet demand.
The Texas homebuilding industry, which went into hibernation during the recession, awoke unprepared for a rebound. Developers, constrained by banks reluctant to make construction loans, had few lots in their backlog, and many homebuilders closed or downsized. Membership at the Dallas Builders Association, made up of residential builders, developers, and related trades and suppliers, has fallen to 940 from about 1,700 before the housing crash, says Phil Crone, executive officer.
Construction workers left for jobs in the energy industry as oil prices surged. Jorge Lefebvre, owner of Designer Stone Center in Houston, a contractor that provides granite and other stone for new homes, says his company is busier than ever and he has to train workers with no experience because qualified workers are hard to find.
A strong job market is helping drive demand. Texas had a 6.4 percent unemployment rate in August, almost a percentage point below the U.S. rate. The pace of job growth in Dallas in August was the greatest of the 12 largest U.S. metropolitan areas, followed by Houston, according to the Bureau of Labor Statistics. "A lot of good things happen when you have jobs," says Mark Zandi, chief economist for Moody's Analytics in West Chester, Pa. "Hopefully what happens in Texas spreads to the rest of the country, because it feels real good."
Before it's here, it's on the Bloomberg Terminal.
LEARN MORE