Liberté, Egalité … and Shopping on Sunday
Retail workers want to overturn a 1906 law limiting store hours
by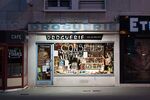 On a sunny October Sunday, cashiers at the Leroy Merlin home-improvement store in the Paris suburb of Ivry-sur-Seine are ringing up caulk guns, kitchen faucets, paintbrushes, drywall, and other do-it-yourself essentials. They're also breaking the law. Most French stores are forbidden to open on Sundays and must close no later than 9 p.m. on weekdays. Social reformers enacted the restrictions in 1906 to guarantee that workers could relax and see their families. More than a century later, with joblessness at 11 percent and many people seeking flexible work schedules, workers are fighting back—not only against the law but also against labor unions pressing for tougher enforcement by authorities who often let violators go unpunished.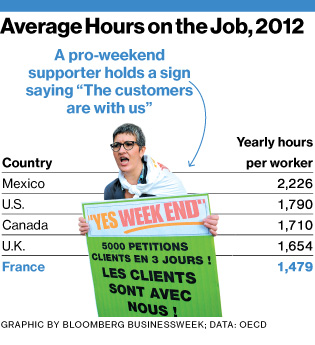 Union leaders "don't have to work as we do. If they did, they would understand," says Magali Bertrand, who works Sundays at the Ivry-sur-Seine store. Bertrand says she depends on her Sunday earnings to cover living expenses while she studies to become a chiropractor. She and other Leroy Merlin workers volunteer for their Sunday shifts and are paid €18.86 ($25.60) an hour, twice the weekday rate. The retailer has been violating the Sunday-closure law for years but is now threatened with heavy fines following a court ruling against Bricorama, another home-improvement chain that stayed open on Sundays. Bricorama says it laid off 200 workers after the ruling.
The Bricorama case was initiated by unions, which also won a Paris court judgment on Sept. 23 that forced the Sephora cosmetics store on the Champs-Elysées to close its doors at 9 p.m. More than 50 employees wearing black Sephora T-shirts crowded into the courtroom, and some burst into tears upon hearing the decision, which Sephora said would reduce work schedules and possibly trigger layoffs. Until the ruling, the store was open until 1 a.m. on weekends and midnight on weekdays, staffed by workers who volunteered for late shifts at a 30 percent higher hourly rate. The unions earlier won judgments forcing Apple and apparel chain Uniqlo to close their Paris stores by 9 p.m.
Union leaders warn that if the law is repealed, workers will be forced into weekend and late shifts without extra pay. "The rules must be respected," Jean-Claude Mailly, secretary general of the Force Ouvrière union, said in an Oct. 6 interview on television.
The government looks ready to negotiate. After a Paris protest by home-improvement store employees, Prime Minister Jean-Marc Ayrault on Sept. 30 named a panel to study possible changes to the law. Local authorities have signaled they won't impose any fines until the group reports its findings at the end of November.
Local governments can already grant limited exemptions. Paris allows shops on the Champs-Elysées and in other tourism zones to stay open seven days a week, while other communities allow certain kinds of retailers—home furnishers such as Ikea, for example—to operate on Sundays. A poll released on Oct. 5 by the BVA survey group found that 69 percent of French citizens favored Sunday openings, up from 52 percent five years ago. With workers, employers, and the public leaning toward repeal, "the unions are caught in a trap," says Fabrice Montagné, senior European economist for Barclays.
There's little evidence that lifting the ban will ease unemployment. In Germany, where most stores close Saturday afternoon and reopen Monday, the jobless rate is only 6.9 percent. Still, French consumers seem ready for the added convenience. "We work Monday to Friday, so we can't do our shopping during the week," says Franck Naquin, who stopped by Leroy Merlin with his wife. "If the workers and the employers and the clients are all OK with it, what's the harm?"
Before it's here, it's on the Bloomberg Terminal.
LEARN MORE