Apple to Toyota Seen Gaining From Thai Transport Upgrade
Suttinee Yuvejwattana and Tony Jordan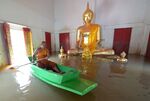 Thai floods severed global supply chains for companies such as Apple Inc. and Toyota Motor Corp. in 2011. The country is debating whether to spend $75 billion on its roads, rails and waterways to avoid another disruption.
The disaster exposed a weakness in Thailand's approach to offering a low-cost manufacturing base as floodwaters swamped 839 factories, flooded roads and cut rail links. Floods have spread across almost half of the nation's provinces again this year, lending a sense of urgency to a parliamentary debate this week on a proposal to build a high-speed rail network and modernize roads and ports.
The upgrades, including a separate $11 billion project to improve waterways, are critical to ensure components from Thai suppliers reach Apple's assembly lines in China and buyers of Sony Corp. cameras in the U.S. Thailand also plans to spend $9 billion to improve highways in a country where three people die every hour in crashes, making the nation's roads the world's second-most deadly, according to the World Health Organization.
"Infrastructure investment would lift up the capacity and the potential of the economy and the country," Deputy Prime Minister Kittiratt Na-Ranong said in an Oct. 3 interview. "It is important that we transform ourselves."
The projects are also aimed at taking advantage of moves by Thailand and nine Southeast Asian neighbors to ease trade restrictions and form a European Union-style common market of 604 million people in 2015.
'Regional Responsibility'
The Association of Southeast Asian Nations is planning a 5,500-kilometer (3,420 miles) rail project linking Singapore with Kunming in China, including a possible high-speed link between Singapore and Malaysia.
"It's a regional responsibility for Thailand to improve transportation to link with other countries in terms of mobility for labor and resources," said Julia Goh, an economist at CIMB Investment Bank Bhd. in Kuala Lumpur. "If you are falling behind, it not only affects Thailand but also limits potential growth for the region."
Thailand will sign an initial agreement with China tomorrow that will allow a barter trade of rice and rubber in return for purchase of infrastructure goods, such as trains, Transport Minister Chadchart Sittipun said.
Trains Derail
Prime Minister Yingluck Shinawatra envisages building four high-speed train routes by 2020, eventually linking Bangkok with Chiang Mai in the north, Nong Khai near the border with Laos, the eastern manufacturing hub of Rayong and with Padang Besar on the Malaysian border.
In addition to spending $26 billion on high-speed trains, the government plans to spend $13.4 billion to extend and upgrade its rail network to double-track and $15.7 billion to expand Bangkok's mass transit system. It estimates the average speed of trains delivering freight will increase from 39 kilometers per hour to 60 kilometers per hour.
The country has recorded more than 100 mostly minor train derailments this year, according to a Sept. 16 report in the Bangkok Post, and services between Bangkok and Chiang Mai were suspended for more than a month starting in September for track repairs. The nation's first major rail link, a 71-kilometer single track between Bangkok and the ancient capital of Ayutthaya, opened in the 1890s.
Road Crashes
More than 94 percent of Thailand's 3,885 kilometer railway network is still single-track, Transport Minister Chadchart Sittipunt said in a presentation to Japanese investors in April.
"That's why we can't deliver efficiency and punctuality," said Kittiratt, who is also Thailand's finance minister. "It's sad because the first route was built between Bangkok and Ayutthaya about 115 years ago. After that we did not really maintain the system well enough."
Thailand will also upgrade 35 customs checkpoints and build six more to remove bottlenecks, Kittiratt said, adding that trucks delivering goods to Malaysia are often stuck at customs for 24 hours. Building more expressways and improving existing roads will help reduce accidents, he said.
Thailand is the world's second-deadliest country in terms of traffic accidents after the Dominican Republic, according to the WHO's Global Status Report on Road Safety released earlier this year. The Southeast Asian nation had more than 26,000 road deaths in 2010, or 38.1 per 100,000 people, costing the economy the equivalent of 3 percent of gross domestic product, according to estimates in the WHO report.
Budget Battle
Yingluck has also proposed spending 350 billion baht ($11 billion) to build reservoirs and channels in northern and central Thailand to prevent a repeat of the 2011 deluge, which forced companies including Pioneer Corp. and Toyota to scrap profit forecasts after the floods shut factories. Some projects have been put on hold after a local court ruled in June that the government must conduct public hearings and study their environmental and health impact.
Similarly, the draft bill for investment in high-speed trains, dual-track rails and roads is facing opposition.
"For 2 trillion baht of infrastructure investments, parliament received precisely two-and-a-half pages of information," Korn Chatikavanij, a former finance minister and deputy leader of the opposition Democrat party, said in an interview Oct. 4. "No information, no results of feasibility studies. Nothing."
Toyota, Ford
Korn said parliament may pass the legislation by the end of November. Opposition lawmakers will ask the Constitutional Court to rule on its legality, he said, arguing that the funds should come from the government's annual budget and a lack of transparency will encourage corruption.
Kittiratt said the off-budget bills are essential to ensure the projects aren't delayed, and to bolster confidence among international companies and investors.
Flooding spread across 65 of Thailand's 77 provinces in 2011, affecting as many as 10,000 factories and costing the economy about $45 billion, according to government estimates. The deluge, the nation's worst in almost 70 years, set back supply of components used in Mac computers, Apple Chief Executive Officer Tim Cook said in October 2011.
Toyota's supply chain was disrupted by the deluge even though its three Thai plants weren't affected. Honda Motor Co. shut a damaged plant for six months and supply chain disruptions wiped out profit at Ford Motor Co.'s Asian unit.
Although flooding has affected 38 provinces so far this year, the government said the 2011 disaster won't be repeated because less rain has fallen and the biggest dams aren't close to capacity, unlike two years ago.
Yingluck's administration raised minimum wages and gave incentives to farmers and buyers of cars and homes to spur growth after the floods. Kittiratt said the infrastructure spending would boost the base of GDP by 3 percent by 2020 compared with the current level, and help to spread wealth to regions outside Bangkok.
The wealth gap "is between the rich and the poor, but it's also between the near and the far," he said. "Those who live very far away from the center of economic prosperity, it's very difficult for them to participate."
Before it's here, it's on the Bloomberg Terminal.
LEARN MORE