LG, Philips Put Magine's Cloud Service in European Smart TVs
Kristen Schweizer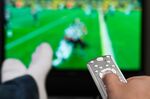 Couch potatoes too lazy to deal with set-top boxes or even plugging in their laptops to channel surf on-demand services will have a new option next year: cloud TV, directly on their sets.
Magine AB's cloud service lets users with an Internet link scan its TV schedules, surf channels, rewind shows and access archived content dating back 30 days via a tablet, phone or computer -- and from early next year, their TVs. LG Electronics Inc. and Panasonic Corp. sets, as well as those made by Royal Philips NV's venture with TPV Technology Ltd., will come with the Swedish company's software where Magine operates in Europe.
"We see already that people are using this on the subway, at work and home, and we are seeing an increase in TV watching in general with it," Mattias Hjelmstedt, chief executive officer at Stockholm-based Magine, said in a phone interview. The company will show off the system this week at the Mipcom TV market in Cannes, France.
Magine started its service in Sweden in March and forecasts it will have 1 million users by early next year. Cloud-based TV services facilitate so-called cord cutting, allowing TV viewers to watch any program at any time from any device and eliminating reliance on a TV set-top box, cables or a satellite dish.
Startup Costs
"These services are about mobile, tablet and PC viewing and can be a nice proposition for people who aren't going to pay 50 pounds ($80) a month for premium channels," said Paul Jackson, a media and technology analyst at Informa Telecoms & Media in London.
In July, Magine raised $19 million in funding from Swedish and international investors to expand. It operates in Sweden, Spain and Germany, and will probably announce service in a new European country next month, Hjelmstedt said.
Magine may face competitors offering similar services, because of the low costs to set up a cloud-based business, according to Jackson. Users must have fast broadband connections to support the TV service, he said.
TV channels, telecommunications carriers and Internet companies like Google Inc.'s YouTube are all looking to tend to consumers demanding more flexible TV viewing, with services from video-streaming on tablets and smartphones, to video-on-demand for catching up on previously aired content.
Facebook Partners
New TV viewing habits are also sending overflow onto the Internet via social-media platforms like Twitter Inc. and Facebook Inc., as audiences connect to discuss what they're watching as they watch it.
Facebook today said it's forming partnerships in France with Bouygues SA's TF1 and Vivendi SA's Canal Plus to promote social-networking tools aimed at TV stations. They'll allow the stations to monitor and broadcast real-time conversations about programs, as well as analyze data about the audiences.
In Sweden, Magine costs 99 kroner ($15.40) a month and offers 38 channels including Discovery, BBC, Eurosport, National Geographic and Cartoon Network. Magine is in talks with content providers and broadcasters to offer further channels, he said.
Hjelmstedt, 40, started Magine in March. He declined to comment on the value of the deal with the smart TV makers.
Before it's here, it's on the Bloomberg Terminal.
LEARN MORE