pursuits
Lufthansa Finds First-Class Seats Don't Always Pay
By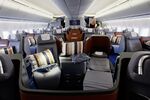 Lufthansa is ditching the first-class cabin on about a third of its long-haul fleet, a move meant to lower costs that comes in response to weak demand on many routes. The German airline said today that some flights to Canada, India, Thailand, and Africa will have only business class.
The market for first class—a rarefied world of private lounges, gourmet meals, extravagant bed linens, and luxury car rides to the airport—remains exceedingly lucrative for global airlines. But in the grand scheme, ultraluxury tickets represent a tiny sliver of the overall business. A recent estimate by Emirates President Tim Clark pegged the entire worldwide market of travelers able to pay for such pampering at just 1 million people in total.
At Lufthansa, the removal (pdf) of some first-class cabins will save €50 million ($68 million). The airline collects about 35 percent of its revenue from premium cabins. The shift from first to business class on international routes has been embraced by other airlines. Delta, Air France, and United have made business class into their top-of-the-line product. The revamped sections on those airlines feature seats that convert into fully flat beds, taking up more space than the older reclining versions.
The strategy, however, stands in stark contrast to rival Persian Gulf carriers that have assiduously courted first-class customers to fuel their international growth. Emirates, for example, was named the world's best airline this year by the prestigious Skytrax airline awards, while Etihad Airways of Abu Dhabi was recognized for the best first-class service and Qatar Airways won honors for best business class. Emirates features showers in first class on its Airbus A380 flights and recently launched a luxury charter service for customers who want an even more bespoke travel experience.
Lufthansa, meanwhile, is in the midst of a major fleet upgrade and balance sheet reorganization, as the airline remains behind its peers on costs and plans to acquire nearly 300 new planes through 2025 to make its fleet more fuel efficient. The company's healthiest first-class routes include Frankfurt to Kuwait, Johannesburg, Riyadh, and Miami, airline spokesman Michael Lamberty told Bloomberg News, so don't expect to see the elite on those flights bumped down to business any time soon.
Before it's here, it's on the Bloomberg Terminal.
LEARN MORE