Breaking Badfinger: Who's Getting the Baby Blue Money?
By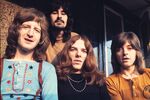 Ten million people watched Sunday's final episode of Breaking Bad, with a touching farewell scene set to Badfinger's 1971 ballad Baby Blue. By Monday morning, the song had been downloaded more than 5,000 times, according to Neilsen Soundscan, boosting its sales by nearly 3,000 percent. Nielsen closes its sales week on Sunday nights, giving Badfinger only a few hours to boost its sales after the finale, so the song will probably jump even higher next week, when number-crunchers take the full measure of what's already come to be known as Breaking Badfinger. Baby Blue is now a top-selling song on iTunes and is poised to hit the Billboard charts next week.
It's a bittersweet moment for Badfinger, a Welsh band that suffered from financial mismanagement and saw its two main songwriters kill themselves over issues linked to royalty payments. All of which leads to the question: Where is the money going today?
Badfinger's career started out as auspiciously as possible. The band was the first act signed to the Beatles' Apple record label and had their first hit song, Come and Get It, handed down by Paul McCartney himself. Badfinger went on to have a number of hits, including classic-rock staples Day After Day and No Matter What. In 1970, in a fateful misstep, the band hired a New York businessman named Stan Polley to manage their growing pile of money. Polley, later revealed to be loosely associated with the mob, put Badfinger's money into a holding account from which he would pay each band member a salary and signed the group to a $3 million deal with Warner Brothers for six albums over three years.
Little of the money ever reached members of the band. According to Dan Matovina, author of Without You: The Tragic Story of Badfinger and an adviser to the estates of the two late band members, even ASCAP songwriting royalties went to Polley. "He had everything," Matovina says.
Warner Brothers eventually became suspicious of Polley's dealings and sued him to find the money's whereabouts. Tours were canceled, albums went unreleased, and Badfinger was more or less forced to disband. By 1975, cash-strapped and unable to get his band back together, Badfinger's lead singer and chief songwriter Pete Ham hanged himself. His suicide note included the line: "Stan Polley is a soulless bastard."
The Apple label stopped selling Badfinger albums after Ham's death. "For 20 years, there weren't any Badfinger records aside from used records," says Matovina. The legal limbo made it difficult for the surviving members to make money, but eventually royalty payments resumed to the band's other songwriter, Tom Evans, as well as the estate of Pete Ham. With sales nonexistent and no performance royalties from broadcast radio, however, the other band members—Joey Molland and Mike Gibbons—were barely making any money off the band's hits.
"They started to go after Tom and say, 'Look, we should get a share of that money," Matovina of the non-songwriting members of the group. "It was very Spinal Tap-ish at times." By 1983, Evans and Molland were performing in rival bands, each using the name Badfinger. That year, after a furious argument with Molland over money, Evans also hanged himself at home.
With its two chief songwriters gone, a complicated royalty and publishing payment agreement was hashed out in court. These days, for all songs released by Apple and Warner Brothers under the name Badfinger, the main songwriter—usually Ham—or the song writer's estate receives 32 percent of publishing royalties and 25 percent of ASCAP's songwriting royalties; the other band members and the band's original manager, Bill Collins, share the rest. Album sales appear to be shared evenly, with each member and Collins getting 20 percent.
Since the legal agreement was reached, Badfinger has enjoyed the comfortable income of a classic rock band with a small but sustained fan base. According to Matovina, Ham's estate pulls in from $80,000 to $200,000 a year—modest by rock 'n' roll standards, but certainly livable. Royalties from Mariah Carey's 1994 cover of the band's Without You boosted the income to over half a million dollars, says Matovina, but since then things had been relatively quiet.
That is, until Breaking Bad came calling.
To date, streaming of Badfinger songs on services such as Spotify is up 20,000 percent, according to Nielsen Soundscan. Sales of Badfinger's other songs are also up, boosting the band's entire catalog nearly 650 percent since last week. The new influx of money from sales—potentially running into hundreds of thousands of dollars—is a big change for a band that hasn't had a hit in over four decades. "This is a band that was pretty far off the radar for most people, and suddenly they're selling records again. It's incredible," says Dave Bakula, senior vice president of insights for Nielsen Entertainment. "Music has clearly become an instant gratification for people."
Popular TV shows and movies have boosted music sales before. Grey's Anatomy is famous for its use of music and even helped put Snow Patrol's Chasing Cars on the Billboard charts in 2006, but not until more recently has the boost become so big and so instantly noticeable. Even as recently as 2007, when The Sopranos finale ended with Don't Stop Believing, Journey saw only a small sales spike. "The lift was nothing like what's happening with Baby Blue, says Bakula. "Though, of course, digital media wasn't at the level of maturity that it's at today."
And Don't Stop Believing was already much more popular than Badfinger.
Before it's here, it's on the Bloomberg Terminal.
LEARN MORE