Yes, Real Men Drink Beer and Use Skin Moisturizer
Guys now are spending more on toiletries than on shaving products
By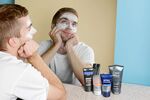 Adam Causgrove is not a metrosexual. The 29-year-old grant administrator in Pittsburgh is a die-hard Pirates fan and sports a 6-inch handlebar mustache. He loves bourbon, drives a Chevy, and has a dog named Diesel. Yet after shaving, the only thing he trusts to soothe his "horrible" razor burn is Crabtree & Evelyn's alcohol-free lotion. "Six years ago I had one shampoo, a body wash, and a toothbrush, and that was it," he says. "As I've gotten older and more self-aware, I cannot begrudge anyone for wanting to put their best face forward."
Men like Causgrove are proof that guys' grooming products—hair serums, exfoliating scrubs, and manly eye creams with manly roll-on applicators—are reaching a wider audience. Over the past five years, the share of new personal-care merchandise geared to men rose to 5.6 percent, from 4.6 percent, researcher Mintel says. Global sales of male toiletries other than razors, blades, and shaving cream will rise 5 percent, to $17.5 billion, this year, surpassing the shaving stuff for the first time, according to Euromonitor International. Unilever, with its Axe and Dove brands, has 26 percent of the market, more than Procter & Gamble, Nivea maker Beiersdorf, and L'Oréal combined.
That dominance has helped Unilever expand both sales and profit margins at its personal care unit, which accounts for 36 percent of revenue, and has offset the sluggish growth of its food brands. "The key objective among all the manufacturers is turning a regime that you have to do into a ritual you want to do," says Phil White, European planning director at marketing firm Geometry Global, part of advertising group WPP.
That hasn't been easy, as 90 percent of men in developed markets spend a half-hour or less getting ready in the morning, says Mintel. Benjamin Voyer, a marketing professor at ESCP Europe business school, says that's due to the perception that men get more attractive as they age, so they don't need to take care of their skin. Women use cosmetics "to signal beauty and youth, which are the attributes men look for," he says. "Men, on the other hand, have traditionally signaled status and wealth, the attributes women look for."
Manufacturers have found clever ways to persuade guys to worry about their looks, explaining that their skin is different—thicker, tougher, more oily—and requires specialized products. As a L'Oréal ad once warned: "You think you're aging well? She thinks you're letting yourself go." Half of American men over 18 now use moisturizers, facial cleansers, or self-tanners as part of their daily routine, Mintel says.

Male beauty brands aren't new. Beiersdorf introduced Nivea for Men back in 1986. These days, niche brands such as the U.K.'s Bulldog and France's Nickel are expanding the market. Both lines appeal to men by explaining in simple terms how, when, and why to use products; Nickel's revitalizing serum, for example, is called Morning-After Rescue Gel. Bulldog, sold in 13 countries, takes a cheeky swipe at Dove's Men+Care and L'Oréal's Men Expert lines on its website, calling them "women's brands in disguise."
Most men, though, don't mind. While 70 percent of men age 18 to 24 use facial skin-care products, only 2 in 10 buy male-only brands, Mintel found. Causgrove, for one, isn't worried about the gender identity of his Crabtree & Evelyn aftershave. "I don't know if it's only for women, but I get horrible razor burn and this is really good," he says.
L'Oréal's Men Expert line will add 15 new products this year, including a Hydra Energetic Pure Moisturizer for 3-Day Beards designed for faces with stubble, as more men eschew daily shaving. Sun damage, oily skin, and acne are other problems that have spawned men-only remedies.
In-store promotions and samples lure customers. During the European soccer championships last summer, U.K. buyers of Nivea for Men got a free shirt like the one the English soccer team wore. And Walgreen featured male grooming in its stores each Saturday in June, dubbing the event Saturdudes. "Getting a guy to use a moisturizer or something in addition to his bar of soap is a big win for us," says Shannon Curtin, a general merchandise manager.