Ikea's New Solar Panels: Sunshine Optional, Subsidies Required
By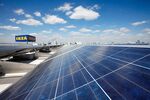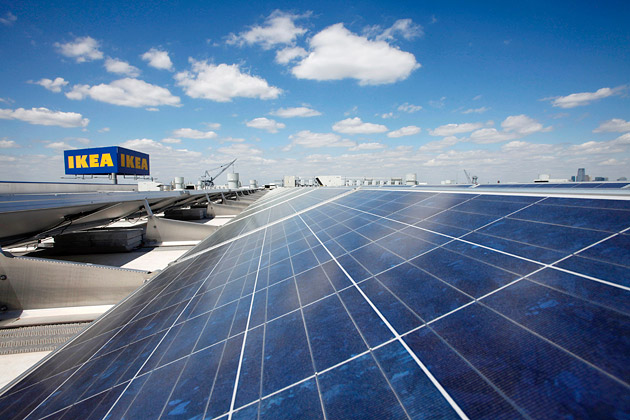 Customers at Ikea stores in Britain will soon be able to stock up on rooftop solar panels along with their flat-pack furniture.
Photovoltaic panel systems costing £5,200 ($9,212) for a standard three-bedroom semi-detached home went on sale this week at an Ikea location in Southampton. The offer, in partnership with Chinese panel maker Hanergy Solar Group, will be extended to all 17 Ikea stores across Britain over the next 10 months, the company said. "We're excited to be able to help customers take positive actions at home for both the environment and their wallets," Joanna Yarrow, head of sustainability for Ikea in Britain and Ireland, said in a statement.
An Ikea spokesman said the company "will evaluate the success of the U.K. rollout" before deciding whether to expand the offer to other countries.
Britain isn't known for an abundance of sunshine, but Hanergy's solar panels are designed to generate electricity from ultraviolet rays rather than sunlight. The panels do need generous government subsidies in order to be financially attractive for consumers. Solar-panel buyers in Britain can take advantage of a program requiring utilities to pay so-called feed-in and export tariffs to customers who generate their own electricity from solar and wind power. Those payments should enable customers to recoup their investment within seven years, according to Ikea.
A simulation on Hanergy's British website shows panels of the type being sold at Ikea yielding £729 in annual earnings when installed on a house with "mild shading" on its roof. Some £505 would come from tariffs paid by the utility company, with an additional £224 in annual savings on the annual energy bill for the house. With no shading on the roof, Hanergy projects a house could generate a total of £768 each year.
In Ikea's British stores, Hanergy will have a dedicated sales space with staff to advise shoppers on design, installation, and maintenance of solar-panel systems. Customers can install rooftop systems on their own by following directions posted on Hanergy's website. As an additional lure, the company is offering no-money-down financing plans.