23andMe Wants to Take Its DNA Tests Mass-Market
by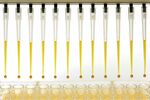 For 23andMe, convincing consumers to spit out their DNA has become a race against time. In 2007, when the Silicon Valley startup hit the market with a $999 genetic test offering, it seemed like an esoteric and largely disease-focused product. Now, as rivals hawk DNA tests as a tool for finding dates and detecting drug risks, 23andMe is trying to morph into a more mainstream lifestyle brand.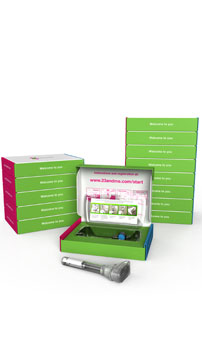 Dropping its price to $99 late last year, which doubled its database to about 400,000 customer profiles, was just the start. The company has former Gilt Groupe exec Andy Page in the new role of president and ran its first national ad campaign last month. On Sept. 30, it will launch a massive open online course on human genetics titled "Tales from the Genome," with Udacity.
More important, perhaps, 23andMe is about to announce a private-sector partnership that could be a model for bringing millions more consumers on board. "The most important thing right now is scale," says Page. "Once we get that, then the business model will follow." Opportunities could range from new areas of research to services aimed at communities that form around particular traits or ancestry.
23andMe, named after the 23 pairs of chromosomes that each person carries, has some natural advantages in the race to establish the leading direct-to-consumer genomics firm. The firm pioneered the use of crowdsourced genetic data for research on diseases such as Parkinson's, myeloproliferative neoplasms, and sarcoma. Another is the high profile of its chief executive officer and co-founder, Anne Wojcicki. A biologist turned businesswoman, Wojcicki recently separated from her husband, Google co-founder Sergey Brin, who's invested millions in the company.
While Wojcicki says the breakup of her marriage won't affect Brin's investment in the private company, she acknowledges other hurdles to hitting her goal of having a million customers in her database, and eventually tens of millions. "People don't understand why they want their genome mapped," she says. "They need to see the power it can give you in understanding your ancestry and personalizing health care. With a million people, we become disruptive."
June's Supreme Court decision, which ruled that human genes can't be patented, also opened the door to a vast new array of players to enter the DNA testing space. Some may be silly. Others, like startup Genome Liberty, compete head-on with 23andMe. Its $99 test, according to co-founder Christopher Mason, will focus on looking at genetic factors that affect how your body responds to dozens of prescribed drugs. That's something 23andMe includes in its ancestral and health report, though perhaps not with the same breadth.
In Wojcicki's eyes, what matters now is getting the numbers. With a big enough database of genetic profiles, the company could look for disease patterns and areas of research that haven't even been considered yet—not to mention new ancestral data and communities to serve. Curing diseases like Parkinson's, which runs in Brin's family, is a priority, but so is getting a personalized road map to a healthier lifestyle, and a foundation for building a new type of health care. As Wojcicki puts it: "My goal isn't to just minimize the chance of getting sick. I want to live a healthy life at 100."
Before it's here, it's on the Bloomberg Terminal.
LEARN MORE