Cinnabon President Kat Cole: Hustling the Gut Bomb
How a former Hooters waitress helped turn Cinnabon into a $1 billion empire
Duane Stanford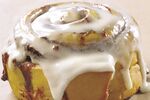 Cinnabon's signature product is an 880-calorie cinnamon roll that the Dallas Observer has called a "gut bomb." It's a swirly pillow of dough dripping with cinnamon, brown sugar, margarine, and cream-cheese frosting. To call it a cult object understates the zombie-like relationship patrons have with Cinnabon's 1,100 stores, which collectively sell about 100 million rolls each year. Cinnabon is mentioned every 10 seconds on social media. Comedian Jim Gaffigan has said the chain is run by Satan. Consumers in focus groups have told the company they often experience anxiety on their way to Cinnabon. They're not worried about the calories, though a Classic Roll contains 330 more than a Big Mac. They're concerned someone ahead of them might get the last fresh one. A fan on Twitter writes, "Just ate a Cinnabon while staring through a window of a gym watching people work out. This is what heroin must be like."
It's difficult to understand the way the Classic Roll supercharges multiple senses at once—unless you have eaten one. The plastic knife cuts through an outside that's mildly crusty before giving way to a softer middle. Frosting melts into the ridges of the bun, which sits in a brown puddle of excess. Take a bite and the buttery flavor bathes the edges of the tongue as the gritty sweetness of sugar and cinnamon washes over the tip. The texture is lighter than expected. The sensation of pure sugar can be overwhelming. It coats the mouth and clogs the back of the throat. Halfway through the roll, the body cries out for water or, even better, Diet Coke, which has a way of cutting through the varnish laid by the fats and sugars. Deep inside the roll, the bun's core is hot and yet just barely cooked. Once gone, the bottom of the clamshell box is left smeared like a crime scene with a mash of syrup and cream cheese. Each one is 3 inches high and 4 inches in diameter and costs $3.69.
The company is not run by Satan. It's run by Kat Cole, 35, whose last job was at Hooters. Although some leaders equivocate about the indulgences they sell, Cole embraces them. "It's almost pornographic," she says. "It's just so over-the-top, it's a sensory experience." Cole came to Cinnabon three years ago. She had worked at Hooters, the beer-and-buffalo-wing chain staffed by waitresses in shrunken tank tops and orange hot pants, for 15 years, starting as a waitress in Jacksonville, Fla., and working her way up to vice president.
Globally, retail sales of Cinnabon products will reach $1 billion this year. The first stores were in mall food courts, and Cole has helped the company move its caloric missiles onto supermarket shelves and into fast-food restaurants such as Taco Bell by way of licensing deals for everything from cookies to drive-through mini rolls. Licensing now accounts for more than half the chain's revenue. The brand can be found on 72 products in grocery stores. General Mills was one of the first, with its Pillsbury refrigerated dough Cinnabon rolls, sold in pressurized cardboard tubes. There's also Cinnabon-flavored Cream of Wheat, International Delight creamer, and Keebler Cinnamon Roll Original cookies. Green Mountain Coffee Roasters will soon introduce a Cinnabon Roll Coffee K-Cup for the Keurig brewer. Burger King sells a miniature version of the Cinnabon roll, as does the Pilot Flying J chain of truck stops. "The brand punches way above its weight," says Cole, who speaks a pidgin-like dialect of Southern English and pure marketing spin.
 
 


In May, Cole shows up at one of the chain's bakery cafes at a suburban Atlanta mall to help demonstrate the art of roll-making. She's wearing her usual: black top, black pants, and black heels, accessorized with a six-year-old black Tory Burch bag that's faded, scuffed, and flaking. She has also donned a Cinnabon apron. She's a bright, cheerful, sparkling presence, apparently game for anything. The bakery cafe, 8 miles from the home office, is where Cinnabon tests new products, such as last year's Pizzabon, a roll stuffed with marinara, cheese, and pepperoni. "We were trying to see how far we could push the savory side of the bun," she says. "People were actually coming to the mall to try it." It did not take off.
A batch of Classic Rolls starts as a rectangular slab of dough that's fed into a machine roller and stretched to a yard wide. The dough sheet is slathered with a half-pound of margarine, the beginning of a sweet schmear that is known at Cinnabon as "the goo." The choice of margarine has nothing to do with calories. The oil-based fat holds up better than butter under the oven's heat, so the goo doesn't ooze out into the bottom of the pan. Next comes a 1-pound mix of brown sugar and cinnamon. "This is my favorite part," Cole says as one of the bakers spreads the mixture by hand over the pastry. The secret of the goo is Cinnabon's proprietary Indonesian korintje cinnamon, which the company has trademarked as Makara. All Cinnabon products contain Makara cinnamon, and Cinnabon won't license a product without it.
The trickiest part of the process is hand-rolling the dough into a perfect log. It requires precision lifting, stretching, and turning to ensure consistency. The finished log is sliced every 2½ inches into a dozen rolls, with a careful sawing motion from back to front to avoid crimping the sides. The raw rolls are placed by the sixes in deep baking pans covered with parchment paper, separated by a custom insert that keeps them precisely spaced.
The rolls go into a warm proofing box for almost an hour to rise. Then the buns bake for about 15 minutes. The best rollers take about 3 minutes to get from the raw ingredients to dough ready for the proofer. Once out of the oven, the rolls are covered with a proprietary cream-cheese-and-sugar frosting and served within 30 minutes. Unsold rolls are placed in multipacks for sale within two days. "It's a guilty pleasure," Cole says.
At the nearby Mall of Georgia, workers serve a steady stream of customers. Many carry the treats away in a paper sack, for a private moment with their poison. Others share the rolls. Newlyweds Andrea and Scott Brooks, in town from Alabama, make a spontaneous stop on their way to dinner at Dave & Buster's. He orders a Classic Roll. She opts for the Caramel Pecanbon, a turbo version of the Classic sprinkled with nuts and drizzled in caramel. Neither has a clue how many calories are laid before them in the blue-and-white paper clamshell boxes. "Probably like a million," Andrea says. The Caramel Pecanbon contains 1,080 calories, which makes it about equivalent to eating two Big Macs.
 
 
Rich and Greg Komen, a father and son, opened the first Cinnabon in 1985 at the SeaTac Mall in Seattle. Cinnabon grew along with the American waistline, opening its 500th bakery in 2001. Three years later, Atlanta-based private equity firm Roark Capital Group acquired Cinnabon for an undisclosed amount and added it to a group they would call Focus Brands. Greg is still a franchise owner. Although the Wall Street Journal has reported that Focus is considering an initial public offering, Cole says, "There is nothing juicy here. We're owned by private equity. They've owned us for 10 years. I'm sure they're always evaluating the next steps."
The chain has since more than doubled, with stores in 54 countries, including Syria. Classic Rolls have been joined by an array of products, including churros (Cinnabon's version: flaky cinnamon twists), a Frappuccino-like coffee drink called a Chillata, and the Classic Roll biopsy called Center of the Roll. Cole also has put more emphasis on the multipacks.
Cole grew up in Jacksonville, the child of a divorce. For a time, her mother fed her three children on $10 a week, surviving on canned food and frozen lasagna. At 16, Cole took a part-time job waiting tables at Hooters. She would eventually fill in managing the kitchen, dining room, and bar. When she was 19, Hooters asked her to help open a restaurant in Australia. She had run almost every part of the Jacksonville operation by then. What she hadn't done yet was step outside her home state of Florida, much less fly on an airplane. She asked for a day to decide. Then she called her mom. Together they figured out that Cole could fly to Miami and stand in line to get a passport in one day.
Within days, Cole was on a flight to Sydney, with a layover in Los Angeles, where she grabbed a peek at Venice Beach. She spent 40 days in Australia opening the restaurant. She had to hire and train waitresses, some of whom didn't show. She had to get grown men and women to believe she was qualified. "It was life-changing," she says. "It was chaotic." On the way home, Cole bought every business magazine she could find and read them all. At the time, Cole considered Hooters a temporary stop as she worked toward an engineering degree from the University of North Florida and planned for law school. Within a month, Hooters asked her to go to Mexico to open its first Central American location. Then came Argentina and two U.S. states. She opened five stores overall. "I came back to school and was failing because I hadn't been there," she says.
By 1999, after she spent a year and a half opening stores, a Hooters vice president asked her to apply for a job managing employee training from headquarters in Atlanta. Cole, then 20, wore a suit to the first interview, even though it was over the phone from the office at the restaurant where she waited tables. "I just wanted to feel more professional," she says. She became a vice president at 26 and would eventually assist analysts and bankers with due diligence on the chain's sale to private equity. She still didn't have a college degree. To remedy that, Cole enrolled in the Georgia State University Executive MBA program. Without an undergraduate degree, she had to take the GMAT. Along the way, she drew the usual loaded questions about how she progressed so fast. Cole points out that she had one male boss in 15 years at Hooters.
Cole was still working on her MBA when Focus Brands, also based in Atlanta, hired her in late 2010 as the chief operating officer of Cinnabon, one of five chains it owned along with Carvel ice cream, Moe's Southwest Grill burritos, and Auntie Anne's pretzels. She finished the MBA two months later, having dipped into savings to pay for it. The company promoted her to president one month later. At Focus Brands leadership meetings, she is a young face surrounded by mostly middle-aged men. She blogs and posts regularly on Twitter, relishing conversations with customers. She calls herself a "connected-creative-conscious-capitalist" and is forever giving credit to her "team."
But her devotion to the corporate world is free of cynicism. By executive standards, she and her longtime boyfriend live in a modest 3,000-square-foot home built in 1968 in Atlanta, which she gutted and filled with her own paintings. One room holds her boyfriend's hunting bows and rifles. Cole drives a nine-year-old Mercedes. Her iPhone screen is cracked.
 
 


Cinnabon's success is drawing criticism from nutritionists and other health experts. David Kessler, former commissioner of the Food and Drug Administration, says Cinnabon represents the way once-in-a-while indulgences have become routine, right down to the bakery locations that tempt travelers and shoppers at their weakest. "We took fat, sugar, and salt and put it on every corner, made it available 24/7," Kessler says. "We made it socially acceptable to eat anytime, and we came up with foods that are super palatable." For his 2009 book, The End of Overeating: Taking Control of the Insatiable American Appetite, Kessler interviewed Jerilyn Brusseau, the chef who helped Cinnabon's founders create what they hoped would be the world's greatest cinnamon roll. She told Kessler that she's "concerned that kids are growing up eating too many things like Cinnabon every day of their lives."
Cole has considered shrinking the bun or switching to less-fattening ingredients. She once tested those ideas with a group of franchisees. They didn't get very far before ending the experiment. Cutting calories would mean using artificial sweeteners and reducing the size to something approaching a mini bun, which was already on the menu.
In market research, customers expressed horror at the thought of changing anything about the Classic Roll. As one respondent put it, "Don't mess with perfection." Others who didn't actually eat the original very often still wanted to know that they could. Some said that when they do decide to splurge, the Classic Roll has to be "so worth it—which Cinnabon is." Cole says, "It became obvious that it was not the route we should go."
There was a practical consideration, as well. Meddling with the size of the Classic Roll would mean reengineering every bakery. Everything from the pans to the proofers and the ovens to the boxes is designed around the Classic Roll. Cole says it would all be a lot of a work for a change that might not matter anyway. "If we say the Classic Cinnamon roll is a smidge smaller, they are going to be like, 'That's still hundreds and hundreds of calories, and it's still huge, and it's still dripping with margarine and frosting,' " she says. And so the Classic Roll abides.
Before it's here, it's on the Bloomberg Terminal.
LEARN MORE