Flipping Burgers in the Golden Years
Tom Palome had a six-figure income but didn't sock enough away
by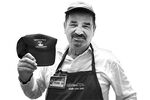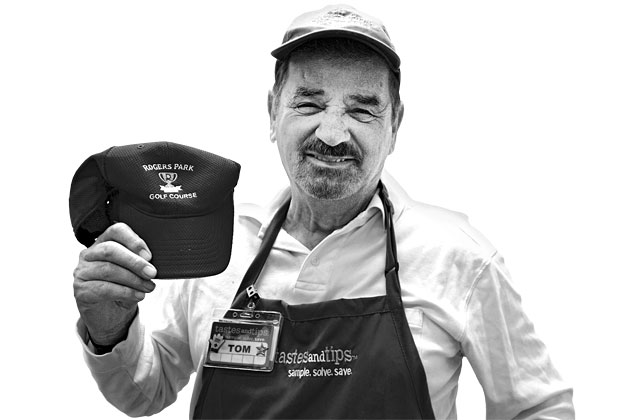 At the height of his corporate career, Tom Palome was pulling in a salary in the low six figures as a marketing executive and flying first class on business trips to Europe. Today the 77-year-old juggles two part-time jobs: one as a $10-an-hour food demonstrator at a Florida Sam's Club, the other flipping burgers and serving drinks at a golf club grill for a bit more than minimum wage.
While Palome worked hard his entire career, paid off his mortgage, and put his kids through college, he didn't put enough away for retirement—like most Americans. Even many affluent baby boomers who are approaching the ends of their careers haven't come close to saving the 10 to 20 times their annual working income that investment experts say they'll need to maintain their living standard in old age. For middle-class households with incomes ranging from the mid five to the low six figures, it's especially grim. When the 2008 financial crisis hit, what little Palome had saved—$90,000—took a beating, and he suddenly found himself in need of cash to maintain his lifestyle. With years if not decades of life ahead of him, he took the jobs he could find.
The youthful, perennially optimistic grandfather considers himself lucky. He's blessed with good health, he says. He's able to work, live independently, and maintain his dignity, even if he has to mop the floors at the club grill at the Rogers Park Golf Course in Tampa before going home at 8 p.m. "That's part of the job," Palome says. "You have to respect the job you're doing and not be negative—or don't do it."
Low-income Americans have long had to scrape by in old age, relying primarily on Social Security. The middle class is supposed to be better prepared, but often that's not the case. More seniors who spent much of their careers as corporate managers and professionals are competing for low-wage jobs. About 7.2 million Americans 65 and older were employed last year, a 67 percent increase from a decade ago, according to government data. "People who built successful careers, put their kids through college, and saved what they could are still facing downward mobility," says Teresa Ghilarducci, an economist at the New School who has studied the finances of seniors.
It's about to get worse. Right behind the current legions of elderly workers are the baby boomers, who began turning 65 in 2011. They're the first generation expected to fund their own retirements, even as they live longer, and they too are coming up short. Company-paid pensions are mostly a thing of the past, replaced by 401(k) accounts funded and managed primarily by employees. The median 401(k) balance for households headed by people aged 55 to 64 who had retirement accounts at work was $120,000 in 2011, according to the Center for Retirement Research at Boston College. "Longevity should be a blessing, but if you haven't planned for it, you're going to work much longer than you ever dreamed of doing," says Larry Fink, chief executive officer of money manager BlackRock.
Palome's children have offered to take him in, and he could scrape by without working: He receives $1,200 a month from Social Security and a $600-a-month pension from his last corporate job. His $1,400 in monthly wages allow him to bolster his savings and provide for some extras. He goes to the theater, pays for plane tickets to visit his children and grandsons, and takes occasional vacations. "I know seniors like me who hardly ever leave their homes because they don't have money to do anything," Palome says. "They could work but won't take a lesser job."
At the Brandon (Fla.) Sam's Club one Saturday in August, Palome is easy to spot. It's not just the bright green apron and matching green baseball cap that set him apart. It's also his charisma and determination. He waves to a mother with a toddler in tow and insists she sample the blueberry-flavored crackers he's stacked neatly on a tray at his aluminum work station. "They're multigrain, and healthier for kids than cookies," says Palome. He's supposed to sell two boxes of the crackers during his seven-hour shift. He sells 24 by cleanup time, then grabs a garbage bag and gathers containers and leftover food from the demonstration carts around the store.
The next day, Palome is at his second part-time job, an eight-hour shift as a short-order cook at the golf course. Working solo, he's in perpetual motion, rushing between the takeout counter at the cafe and indoor counter to collect orders and run the cash register, while grilling hot dogs and hamburgers and grabbing soft drinks from the refrigerator. It's a busy day at the 18-hole municipal course; he serves 70 customers before closing time. Then he scrubs the grill and sweeps and mops the floors. Palome earns about $80 for the day—$7.98 per hour in wages plus tips. "I earn in a week what I sometimes used to earn in an hour," he says, adding that he understands seniors can't easily keep or get jobs that pay middle-income wages.
As a professional, Palome got his big break in 1975, when he was recruited to Cooper as vice president of marketing for the Oral-B dental-care business. When the company decided to relocate to California from New Jersey, he didn't want to uproot his family. So in 1980 he started a consulting company, with Cooper his main client. In flush years he earned about $120,000 from clients, including Sandoz Pharmaceuticals and Johnson & Johnson. He saved for his kids' college and helped his elderly parents, but retirement wasn't on his radar. "I never thought I'd live this long," he says.
Because Palome was self-employed, he didn't have a 401(k), and he has never had a tax-deferred individual retirement account. It's the same for most Americans: Only about half of private-sector workers were covered by an employee-sponsored retirement plan of any kind in 2011, and fewer than 40 percent of those participated, according to the Employee Benefit Research Institute. When the financial crisis hit, Palome's savings, which he'd invested mainly in stocks, shrank from about $90,000 to less than $40,000. "I was shocked by how fast I lost so much," he says.
If Palome has one regret, it's that he didn't get better retirement investing advice somewhere along the line. "I thought I could do it on my own," he says. Still, he's proud of his accomplishments. He built a career in marketing, raised a family following the loss of his wife in a car accident, and helped his kids get a start in life. "I'm not going to sit on my laurels and say I was an executive making six figures and traveling the world," he says. "I tell people I demonstrate food and I do short-order cooking. I don't mind saying it. What's important is that I can work today."
Before it's here, it's on the Bloomberg Terminal.
LEARN MORE