For South Korea's Top Students, Chaebol Are the Place to Be
Graduates from Korea's top schools don't spurn the chaebol anymore
by
The chaebol—South Korea's leading conglomerates—have dominated its economy for decades, but for most of that time they didn't get to hire much from Korea's top universities. Graduates of these schools weren't interested in a career in manufacturing. They opted for the civil service, banks, the law, and foreign consulting firms. With the exception of Samsung Electronics, the chaebol had to recruit from less prestigious schools. That's changing. While only 13 percent of business grads from Seoul National University (SNU)—often called Korea's Harvard—went to work at a chaebol in 2009, 25 percent of the class of 2011 said they opted for a job at one. The remaining 75 percent pursued careers in law and civil service.
A big beneficiary from this shift is Hyundai Motor. As it's growing faster than any other global auto brand over the past decade, Hyundai's now attracting graduates from top schools. In the latest study of grads from SNU, more business students in the class of 2011 said they went to Hyundai than any other employer. Two years earlier, none did. "When I was graduating, SNU graduates thought places like the Bank of Korea or new high-paying Korean commercial banks were the best places to start a career," says Heo Pil Seok, an economics major in SNU's class of 1989 and now chief executive officer of Midas International Asset Management in Seoul. "Hyundai wasn't on the preferred list."
Of almost 200 classmates, Heo says he knows of only one who went to the carmaker. At the time, Hyundai Motor was smaller than Mitsubishi Motors. Today its profits exceed those of BMW.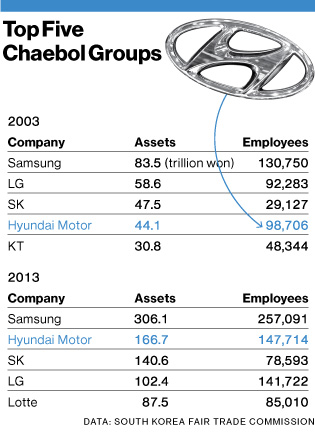 SNU alum Kim Jung Min, 27, who joined the automaker in 2011, says she "really wanted to work at Hyundai. It just seemed exciting—the place to be." Hyundai's rise has helped make it the country's eighth most desirable employer, and its affiliate Kia Motors is No. 3, according to a survey by JobKorea, an online recruiter. A decade ago, Hyundai was 21st, and Kia wasn't even on the list. One reason Hyundai and other chaebol are attracting students from the top schools is the devastating impact the global financial crisis had on banks, Korea's included. The culture of the chaebol has also changed considerably. The old tradition of forcing young executives to work long hours, endure abuse, and drink copious amounts of alcohol with fellow workers far into the night is starting to erode.
The conglomerates also pay better than the government. Hyundai salaries last year averaged 94 million won ($87,000). "More and more students are choosing Korean conglomerates for practical reasons," says Jung Jae Kwang, 25, who joined Hyundai's finance team this year after graduating from Yonsei University, another top school. For Jung, those include the chance to travel, job security, and a generous salary.
While Hyundai isn't complaining about the growing interest from elite schools, the company says it's also broadening its recruiting efforts to find workers with less conventional backgrounds. That means looking beyond grades and test scores by adding weight to referrals from professors and scouting for potential hires instead of simply waiting for recent graduates to knock on the door, says Chang Haelim, Hyundai's human resources team leader.
As more Korean companies become global brands, their appeal to alumni of the nation's top schools will strengthen, says Jasper Kim, an international studies professor at Ewha Womans University in Seoul. The key is what Kim calls "the SNS trifecta" of stability, nationalism, and social status. There's "a unique sense here in Korea that working for a large Korean firm is not just valuable for the job seeker, but also good for the country itself," Kim said in an e-mail. This "resonates not only with the individual job seeker, but also with the individual's collective networks—from family to friends and even one's foes."
Before it's here, it's on the Bloomberg Terminal.
LEARN MORE