What's Behind Apple's Epic Memory Markup
Costs have plunged, but Cupertino's prices aren't budging
By and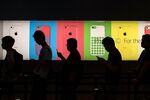 While all those new iPhone sales send Apple's profit forecasts sailing past previous estimates, one big reason isn't getting much attention: The company charges four times the going rate for extra file-storage space.
As with previous models, Apple is asking for an additional $100 to double the storage memory on the iPhone 5s and 5c, and $200 to quadruple it to 64 gigabytes on the 5s. A similar 64GB memory chip for phones running Google's Android operating system sells for about $50 on Amazon.com. While the cost of smartphone memory has fallen 71 percent in the last four years—to about 60¢ per gigabyte, according to researcher IHS iSuppli—"Apple has never followed the trend in passing along the savings," says IHS analyst Michael Yang. Apple spokeswoman Natalie Kerris declined to comment.
Unlike other phonemakers, including Samsung Electronics and LG Electronics, Apple doesn't let customers swap out old memory cards in favor of roomier ones. The only way to enhance storage on an iPhone is to buy a new device. "They can't put in upgradeable storage, because they make so much money on the markup to 64GB," says Kyle Wiens, founder and chief executive officer of component seller IFixit. That's a big inconvenience for customers who can't afford to shell out for a brand-new device. Jessica Boudevin, a writer in Los Angeles with an 8GB iPhone 4, says she's "constantly deleting" photos, videos, and other files to make room for new ones.
Apple enjoys a profit margin of about 50 percent on the iPhone, according to Brian Marshall, a senior managing director at researcher ISI Group. Its memory premium extends to the iPad—a 128GB version of the tablet costs $799, $300 more than a 16GB model.
The company has significant markups on other components, too. Through Apple's website, upgrading its Mac Pro desktop with a Radeon Pro 5870 graphics card, typically priced around $200, costs $449. At an Apple store, a charger that IHS estimates costs $1.40 to make sells for $40. The company's gross margin stood at 37 percent last quarter, compared with archrival Samsung's 30 percent, Hewlett-Packard's 23 percent, and Dell's 18.5 percent, data compiled by Bloomberg show. Marshall estimates that the mobile memory markup accounted for about one-fourth of Apple's profit last quarter; Gene Munster of Piper Jaffray puts it at around two-fifths.
The company's sales growth is slowing, and its share of the $280 billion smartphone market is falling against a wave of cheaper alternatives, especially abroad. The iPhone accounted for 13.2 percent of global smartphone shipments last quarter, down from 17 percent the year before, according to researcher IDC, and iPhone sales growth has trailed the overall smartphone market for the past two quarters. From the new models' Sept. 10 unveiling to their launch, Apple's stock dipped as analysts fretted that the phones weren't priced low enough to compete with Android in fast-growing developing markets. It rose again on record launch-weekend sales of more than 9 million iPhones.
For now, at least, Apple can afford to play to the high end. In a Piper Jaffray survey of 416 customers waiting in line for new iPhones over the 5s and 5c opening weekend, average respondents said they wanted a $299 32GB model. (Its storage costs Apple $18.80, according to IHS.) Among consumers who want iPhones that badly, extra memory is an easy upsell, says Michael Gikas, a senior editor at Consumer Reports. "As long as Apple can make people pay," IHS's Yang says, "it will stay on this track."