Goldman Sachs Insider Tale Doubles as PhD Thesis
by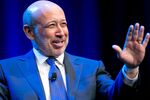 When the latest Goldman Sachs tell-all landed on my desk, my first thought was that Greg Smith had come up with a sequel to Why I Left Goldman Sachs. But this latest addition to the Vampire Squid oeuvre is by Steven Mandis, a former Goldman portfolio manager who casts his insider tale as a more somber, studied look at the bank's culture. His book, What Happened to Goldman Sachs: An Insider's Story of Organizational Drift and Its Unintended Consequences, has the added gravitas of being the basis for Mandis's PhD dissertation on his former employer at Columbia University. That may explain why he's supplemented his own tale of angst with SEC filings, interviews, and references to sociological research.
Mandis will likely generate less buzz than the ping-pong-playing Smith, who turned his good riddance memo into a New York Times op-ed before making it a book. But the two alums are united by more than just their mutual disappointment in Goldman chief Lloyd Blankfein. Both men lasted about 12 years at Goldman, which may be equal to a lifetime of earnings for folks who don't work on Wall Street. Mandis had a less explosive exit when he left in 2004 and joined hedge fund Halcyon Asset Management, where he did generate some headlines with a sudden departure in 2008. From there, he went to Citigroup before heading to academia to become a sociologist.
Look beyond the research, though, and fans of Smith's book will find a similar story arc: Young man wins dream job at a venerable client-focused bank, only to watch it morph into a profit-hungry beast.  In each, the author chronicles a company culture that deteriorated as they stood innocently by.  There's nostalgia for earlier days when Goldman was presumably steeped in the ethos of doing God's work. Smith, who joined in 2000, says he spent his first decade in a "culture of teamwork, integrity, a spirit of humility, and always doing right by our clients."
Mandis, meanwhile, draws from the same handbook (perhaps literally) in citing Goldman's reputation for "honesty, integrity, and unquestioned commitment to the best interests of its clients." Back when he was a young gun in 1992, the place was so beyond reproach that he joked his colleagues would put up "found" posters if they saw a nickel on the floor. (Then again, imagine the novelty of an investment banker seeing real money.) Mandis argues that those days were pretty much over with the initial public offering in 1999, before Smith even got the summer internship that launched his career.
As with any family, of course, everyone's experience is unique. What they share is the likely consequence that a Wall Street bank will probably never hire them again. Trashing your old boss may be fine when sitting around a bar with a few friends. Doing it in book form tends to be a better career-builder when you're a whistle-blower or, say, a former CIA operative. For potential employers, it may evoke fears that you'll turn their halo into fangs. It's why there's an entire genre of fiction based on thinly veiled characters. Do you think Vogue editor Anna Wintour would have worn Prada to the premiere of The Devil Wears Prada if the hellish Miranda Priestly instead had used her name?
Mandis may be unfazed by the smell of the bridge burning as he pursues his doctorate in Columbia University's department of sociology. Smith, though, is another question. His career turn was forged more from a fit of pique. Now that he's written a book and apparently encouraged regulators to get tough on banks, it's not clear what's next for a man who accuses colleagues of calling clients "muppets." He could become a thought leader, perhaps, or turn to a career in writing. He may build his brand on Twitter, where Goldman Sachs has the lead role in its IPO.
In the meantime, their old employer carries on. With his more academic focus, Mandis leaves less room for the next disgruntled employee to pen a memoir. Then again, with the juiciest detail in Smith's book being a sighting of Lloyd Blankfein's naked body in a locker room, perhaps there's some room on the tabloid end of the spectrum.
Before it's here, it's on the Bloomberg Terminal.
LEARN MORE