All Against BP as Spill Trial Turns to 'Coverup'
Paul M. Barrett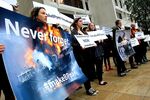 The BP oil-spill-litigation cage match starts up again next week in New Orleans. Thought this multibillion-dollar melee had already run its course? Not by a long shot.
The legal fracas concerns liability for the 2010 Gulf of Mexico oil rig explosion and epic spill. Eleven men died, and millions of barrels of oil sullied the gulf coast. BP has already doled out some $26 billion for cleanup and claims payments, but the British oil giant will owe more. The question now is how much: a few billion dollars, something closer to $17 billion, or—if the most fervent dreams of plaintiffs' lawyers come true—a figure of even greater magnitude?
In April, U.S. District Judge Carl Barbier concluded the first phase of a trial whose antagonists go well beyond BP and the federal government to include oil rig contractors Halliburton and Transocean, Louisiana, and four other gulf states, and a muscular contingent of plaintiffs' attorneys representing individuals, businesses, and local municipalities. Merely assembling a scorecard required a grasp of quantum physics.
Phase 1 focused chiefly on the degree of BP's negligence in causing the spill. That issue will help determine the per-barrel penalty BP will eventually pay for violating the federal Clean Water Act. Barbier, who serves the functions of judge and jury in this "bench trial," has not announced his ruling yet, keeping all concerned in suspense.
Meanwhile, Phase 2 begins Monday with evidence on just how many barrels of oil escaped and whether BP conducted itself properly in stopping the spill. BP will call expert witnesses to testify that 3.26 million barrels spewed from the ruined Macondo well, and the federal government will put up its own experts to support a 4.9 million-barrel figure. Predicting how the judge will choose among the voluminous technical data seems a fool's errand—no less so than forecasting whether the Phase 1 verdict will label BP "negligent" or "grossly negligent." These factors, along with others, will determine BP's total legal bill—and the amount of money available for further damage payments and environmental programs.
The spicier part of Phase 2 will address whether BP responded responsibly once the Deepwater Horizon rig blew up and the rogue oil began to flow. The company will offer evidence that it did the best it could, even though it took 86 days to stem the contamination with a specially constructed "capping stack." In an unlikely alliance, the states, plaintiffs' lawyers, Halliburton, and Transocean will collaborate on a conflicting portrait of a multinational corporation woefully unprepared for a crisis and then determined to conceal the extent of the damage. The significance of Barbier's view of these matters is that the plaintiffs and states are hoping that damning findings about BP will increase the chances of the judge imposing stiff punitive damages on top of the company's other liabilities. Halliburton and Transocean, for their part, hope that the worse BP looks, the less they'll be penalized for their roles in the debacle.
That's not all. BP has battles on other fronts—not least a pending conflict with plaintiffs' lawyers about one slice of private business and economic claims that for a while seemed to be settled but then erupted earlier this year into renewed vituperation. Billions more are at stake. The one safe bet about the spill litigation is that the lawyers will remain busy well into 2014, and maybe for years beyond.
Before it's here, it's on the Bloomberg Terminal.
LEARN MORE