A New Twist on Capital Flight: Venezuela's Absurd Airfares
By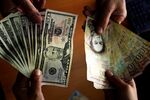 It's hard to find a flight out of Venezuela—and it has nothing to do with airline service.
Owing to currency controls erected under former President Hugo Chávez, Venezuelans have turned into masters of currency arbitrage, exploiting the mismatch in the official and illegal exchange rates for the dollar and bolivar. While the official rate is pegged as 6.3 bolivars to the dollar, the black market rate is seven times higher, as Reuters reported, leading to a rush to obtain dollars abroad that can be sold back home. Flights are sold out for months in advance because of a quirk in travel rules allowing anyone with a valid airline ticket to exchange up to $3,000. The maneuver is known as el raspadito, or the scrape.
But not everyone involved in the arbitrage scheme is flying—just booking a ticket is enough, and credit cards can be sent abroad to be swiped for cash advances. The heavy profits available to travelers mean that some do end up with no-cost holidays. "It is possible to travel abroad for free due to this exchange-rate magic," economist Angel Garcia Banchs told Reuters.
But only if you can secure a seat. The scrape has sent airfares soaring, with the lowest advance-purchase price next month for a return flight from New York currently priced at $2,550 on Aeroméxico. United's nonstop flight from Houston is selling for nearly $4,600 in October, while American Airlines flights from Miami can't be booked for less than $3,000. Fares on Delta from Atlanta in November also top $3,000. As a result of the high level of unused seats, some airlines are beginning to overbook at much higher rates than usual and might add extra flights.
Ten years of currency controls has led to inflation of 45 percent and shortages for such basic staples as food and toilet paper. Venezuela has devalued its currency multiple times, including by one-third earlier this year, which has intensified inflation but made the country's debt service easier to manage. In February, then-finance minister Jorge Giordani complained that his nation suffers from "an insatiable appetite for the dollar, from a type of dollarized nymphomania."
Chávez died in March, and his successor, President Nicolás Maduro, has pledged to follow the same socialist policies. The new president has called the capital flight an effort by greedy capitalists to sabotage the economy and recently announced a telephone hotline, 0-800-SABOTAGE, for people to report illegal economic activity, the Guardian newspaper reported. It's a safe bet that getting through to the hotline is easier than booking an airplane ticket these days.
Before it's here, it's on the Bloomberg Terminal.
LEARN MORE