Chanos Undeterred by China Growth as O'Neill Bullish
Ye Xie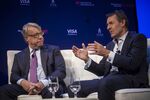 China's improving economic growth is unconvincing to Jim Chanos, the founder of Kynikos Associates Ltd., who is maintaining bearish bets on the nation's banks.
"My caution is related to the credit-driven model," Chanos, who predicted the collapse of Enron Corp. in 2001, said on a panel moderated by Tom Keene at the Bloomberg Markets 50 Summit in New York. "If you grow new credit by 30 percent to 40 percent" of gross domestic product a year, it's not difficult to reach the government's expansion target, he said.
Growth in China's retail sales and industrial output accelerated in August as the broadest measure of new credit almost doubled, a sign Premier Li Keqiang is committed to meeting economic goals even at the cost of increasing risk in the financial system. A private survey from New York-based China Beige Book International showed the economy decelerated this quarter, contrasting with official data showing a pickup.
While Chanos said China will have a "credit event" in five years as the country fails to keep the same pace of loan growth, Jim O'Neill, the former chief economist at Goldman Sachs Group Inc., predicted the economy will double in five years to $16 trillion, about the same size of U.S. GDP currently.
Yuan Surprise
China's leadership is "deliberately" slowing growth and is capable of bringing the housing market and lending under control, O'Neill, a Bloomberg View columnist, said on the panel. "They are not shy or scared about meeting the scale of some of the challenges."
O'Neill said he's "slightly" surprised that policy makers have allowed the yuan to appreciate this year, which shows their commitment to moving away from China's reliance on exports to spur growth.
The yuan has strengthened 1.8 percent against the dollar this year, extending its gain since 2005 to 35 percent. Yuan forwards fell for a second day today, while the Shanghai Composite Index of equities advanced 0.3 percent at the 11:30 a.m. break.
While O'Neill shares Chanos's view that the mining industry will face difficulties, he is optimistic that a "new China" focusing on consumption will lead to investment opportunities.
Chanos said such transition will be "problematic for the credit cycle." Even as the central government acknowledges the needs to curb debt, it is difficult to keep local authorities from boosting borrowing and investing in new projects, he said.
Shadow Finance
Aggregate financing was 1.57 trillion yuan ($257 billion) in August, the People's Bank of China said, topping the 950 billion yuan median estimate of 10 analysts surveyed by Bloomberg News. New yuan loans from banks accounted for about 45 percent of the total, down from July's 87 percent, as non-traditional credit played a bigger role.
Increases in business investment and real estate revenue slowed this quarter, while service industries picked up and employees became tougher to find, China Beige Book International said. The report is based on responses from 2,000 people from Aug. 12 to Sept. 4 as well as 32 in-depth interviews conducted later in September.
Before it's here, it's on the Bloomberg Terminal.
LEARN MORE