Box's Aaron Levie Is Business Software's Outlandish Old Soul
by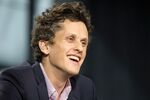 Aaron Levie, the chief executive officer of Box, has this insane mound of unruly hair. It's his thing. He tugs at it when talking, as if pulling words and ideas right out of his brain. He makes fun of it when speaking on stage. So do other people. At 28, this hair abomination should be as dark as it is thick, but it's not. It's gray, or at least graying rapidly on the sides and pretty quickly up front and on top.
The joke could easily be that Levie's hair is gray because he works too much. That's not quite it. Levie, by all accounts, does work an intense brand of odd hours—something like 10 a.m. to 3 a.m. The gray thing, though, comes from his most unusual place as the preternaturally old soul of business software.
Let me explain.
At his previous apartment, Levie used to put up what he describes as "posters" on the wall near his bed. They were not posters. They were logos of companies such as Cisco and Oracle printed on plain sheets of paper and taped to the wall. Levie wanted to surround himself with images of the great computing giants of yore—all part of his unrelenting yearning to build a big, meaningful technology business. "It worked!" says Levie, noting that Box grew at its fastest rate during the "poster period," before he moved into a nicer apartment and his girlfriend talked him into better artwork.
Then there's this.
During company meetings, Levie will drift into reveries about the golden days of IBM in the 1960s. He was not alive at the time, and yet he seems to feel the era and gets pumped and enthused. Employees groan as he implores them to help turn Box into the next IBM, in part because they're tired of him saying things like this and many struggle to think of IBM as ever being very cool. Even more of them aren't sure what mainframes are or why someone would admire them, but Levie's old soul does not care. He keeps right on admiring the heck out of IBM. "If you go back 20 years," he says, while starting another anecdote, and then pauses. "I really want to be able to say things like that credibly."
Levie does not read so much as he savagely consumes business books. He's a Geoffrey Moore Crossing the Chasm/Clayton Christensen Innovator's Dilemma quoting machine who worships tipping-point and disruption jargon. He both adores and is jealous of Marc Benioff, the CEO of Salesforce.com, because Benioff got to be the self-appointed reverend of cloud computing before Levie did. Now, in a bid to make up for lost time, Levie appears at every Silicon Valley dinner, gathering, panel, and TV set possible talking about the oncoming wave of mobility and cloud technology that will change all our lives forever.
The thing about the gray hair, then, is that it makes so much sense. Levie spends his days thinking about business software and agonizing over business strategy and his nights diving deep into the history of the technology industry and methods for building lasting companies. Although funny and personable, he often ends up playing second fiddle to the charismatic Drew Houston, the 30-year-old CEO of rival Dropbox, who sings at bars and works some frat boy swagger. Levie also lacks the track record of, say, Dustin Moskovitz, the 29-year-old Facebook co-founder-turned-productivity software maker at Asana, who finds enlightenment and world peace in hugs given out at Burning Man. But what Levie has that his peers don't is his place as an honest-to-god throwback businessman—a guy who realizes that he's trying to sell important software and tools to important companies and who wants to do this in an adult manner.
Last week, Box unfurled a number of new products to help it keep chasing Levie's quest. Most notably, the company has come out with a document creation and editing service. The technology falls under the auspices of Sam Schillace, the co-founder of Writely and former engineering director of Google Docs, who's now given Box customers a modern, free-flowing place to work on documents and share ideas. Box Notes is not terribly dissimilar from Quip: Both products are basically lobotomized versions of Word that pitch basicness and a couple of cloudy, mobile baubles as their breakthroughs. Or, as Levie says: "This is the Hyperloop of word processing."
How does Levie further explain the usefulness of Box Notes? By pointing to the mainframe, of course.
In the mainframe era, he says, businesses moved fairly slowly and had strict hierarchies. They were a reflection of the big, rigid technological tools at their disposal. In the client/server period, things moved a bit faster and employees had a bit more autonomy. And these days, well, people are ready to take part in a content-sharing extravaganza that obliterates hierarchy and turns us all into CEOs—or something like that. Box wants a big role in the revolution. "This isn't about taking a packaged doc and spreading it around a company," says Levie. "This is about all of the brainstorming and sharing of information and ideas and working with people inside and outside of your business."
Levie needs to come up with a trick or two to keep Box booming. The company has received—please take firm hold of your sanity—$312 million in venture capital to date. That's one hell of a bet by Silicon Valley that he knows what he's doing.
While Box's investors must be feeling a bit nervous, they're also likely still impressed with the way Levie approaches the business. He wants to transform Box into something like the Oracle of collaboration software. Box wants to build special tools for industries such as insurance, health care, and automotive. It wants to understand its customers on a pretty deep level and cater to special needs. Again, this is old-soul talk and doesn't sound nearly as juicy as selling The Flow or a consumer-first service like Dropbox, but it shows a sane strategy for making serious money.
Before it's here, it's on the Bloomberg Terminal.
LEARN MORE