Castro Doctors Help Brazil Ease Shortage as Rules Relaxed
Joshua Goodman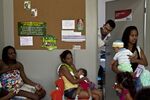 Fresh paint and new examination tables attest to the recent inauguration of a clinic in Duque de Caxias on the impoverished outskirts of Rio de Janeiro. The only thing lacking is enough doctors.
That same failing plagues Latin America's biggest economy, which needs 168,000 more physicians, according to the Brazilian government. Reacting to protests in June over the poor quality of health care and other public services, President Dilma Rousseff relaxed immigration and licensing rules to send foreign-trained doctors, including as many as 4,000 from communist Cuba, to areas where they are needed most.
With health workers in short supply globally, Brazil's strict immigration and licensing rules create additional barriers to attract medical talent. Less than 2 percent of doctors in Brazil are foreign-trained, compared with 25 percent in the U.S., according to the government.
"It makes no difference where the doctors come from," Sandro Fernandes, family health coordinator of Duque de Caxias, said in an interview from the neighborhood clinic that opened last month. The city, 25 kilometers (16 miles) from downtown Rio, is seeking to double to 170 the number of doctors on its payroll to achieve its goal of extending primary care to 70 percent of its 800,000-plus residents from 28 percent now.
"As long as doctors are willing to help, they'll be welcomed," said Fernandes, who has requested 32 physicians from Rousseff's "More Doctors" program, which pays 10,000 reais ($4,542) a month in exchange for working in remote and poor areas.
World Class
Though Brazil's bigger cities boast world class facilities, such as the Sirio-Libanes Hospital in Sao Paulo where Rousseff was treated for cancer, the number of medical graduates has failed to keep pace with growing demand for health services. The number of physicians, at 1.8 per 1,000 people, is below the 3.2 average for the Organization for Economic Cooperation and Development, according to data by the Paris-based group.
Medical professionals are also poorly distributed. About 70 percent of the nation's 370,000 doctors work in wealthier southern states where, in the case of Rio, there are 3.44 doctors for every 1,000 people, government data show. That's over four times the rate of Para, a state in the Amazon the size of South Africa. More than 700 municipalities don't have a single doctor.
Underfunding and mismanagement are also driving an exodus of doctors from the public system, access to which the 75 percent of Brazilians who lack insurance depend.
Doctors' Opposition
Despite the deficiencies, doctors groups have condemned Rousseff's program, saying it's a short-cut to certification for unqualified doctors who lack knowledge of Portuguese or Brazil's medical system. To attract applicants, the government is waiving a requirement that foreign-trained physicians take a national test -- which only 77 of 884 candidates passed last year -- to be licensed.
"The path chosen is one of high risk and constitutes a national embarrassment," the Federal Council of Medicine, or CFM, which is responsible for regulating the profession, said in a June 25 statement, four days after Rousseff announced the plan in a nationally televised address to quell the protests. "It's a palliative and populist measure that conceals the real problems" affecting Brazil's health care system.
The government has countered that foreign-trained doctors will only be accepted from recognized universities, and their work will be closely-supervised and restricted to providing primary care, not performing surgery.
Indigenous Communities
"It's easier and quicker to train a doctor to fluently speak Portuguese than wait six years for them to graduate," Health Minister Alexandre Padilha said on Aug. 24, drawing on his own experience as a physician working alongside foreign doctors among indigenous Amazon communities. "I saved lots of Indian lives and I don't speak any indigenous languages."
When the first 400 Cubans arrived last month, doctors organized nationwide protests and the CFM declared Padilha, a specialist in tropical diseases, persona non grata. On Aug. 26, police reinforcements were called into the northeastern city of Fortaleza to protect a group of Cubans from hecklers shouting "slaves."
As part of a deal brokered by the Washington-based Pan American Health Organization, Cuban physicians receive about half the pay provided other beneficiaries of the "More Doctors" program, with the remainder going to the coffers of President Raul Castro's government.
Cuban Aid
Cuba has sent more than 130,000 doctors to poor countries around the world to spread what it regards as the social achievements of its 1959 revolution. More recently, earnings from medical services have become its biggest source of hard currency, pulling in more than $7 billion a year, according to Julie Feinsilver, who has studied Cuban medical diplomacy for 30 years. The biggest contingent, some 30,000, are currently deployed in Venezuela as part of an oil-for-doctors deal hatched by the late President Hugo Chavez.
The majority of the 4,000 Cuban doctors slated to arrive to Brazil this year will be sent to the northeast, traditionally the country's poorest region, where they'll focus on sanitation and disease prevention.
"These are areas Brazilian doctors won't go and for which Cubans are ideally suited," Feinsilver, author of "Healing the Masses," a book about Cuba's health politics, said in a phone interview from Washington. "They look like the patients they treat and don't have a God complex that many people expect to see in doctors."
Metropolitan Needy
As well as jungles and other remote regions, major metropolitan areas also suffer shortages. On a Sept. 11 visit to Sao Goncalo, a working class suburb of Rio that's home to 1 million, Rousseff said that a response to demands for better public services that fueled the unrest in June can't be delayed.
The lack of quality health care was identified by 48 percent as the country's biggest problem in a Datafolha poll published June 30 of 4717 people nationwide with a margin of error of plus or minus two percentage points.
"In Ipanema there are no shortages of doctors, not in Leblon either," Rousseff said, referring to beachside neighborhoods favored by Rio's rich. "The needs are here."
Even supporters of Rousseff's campaign acknowledge that paying a premium won't attract doctors to public hospitals until working conditions improve.
Wendel Paiva, a 26-year-old physician, said he joined the "More Doctors" program out of a desire to make a difference. Just a few months out of medical school, he said he's seen enough of the system's shortcomings -- yearlong waits for an MRI, a lack of bandages and other basic supplies -- to wonder how long he'll be able to bear the daily frustrations.
While the newly-built clinic he works at in Duque de Caxias is well-equipped and celebrated by the local community, the previous one in a nearby shantytown run by armed drug gangs was shunned by all except the most-desperate patients, he said.
"No doctor will work at a place where you need a bandit's permission to enter," Paiva, who is originally from Sao Paulo, said in an interview between attending patients. "It doesn't matter if they're Brazilian or a foreigner."
Before it's here, it's on the Bloomberg Terminal.
LEARN MORE