Despicable Me 2 Producer Knows How to Win the Box Office
With a 1,000 percent box office return, Chris Meledandri's movie is a new Hollywood model
By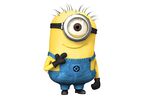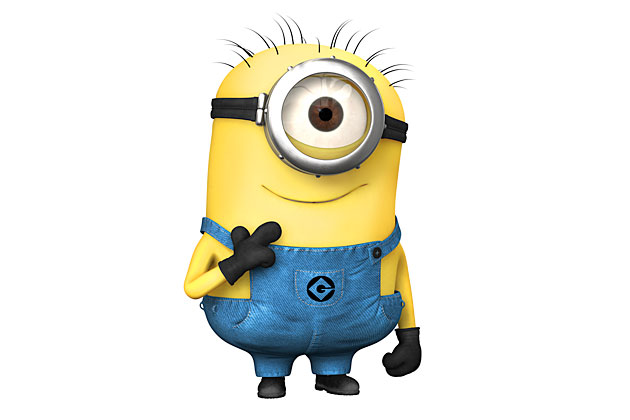 Comcast's Universal Pictures is Hollywood's top-grossing moviemaker so far this year. Asked at Allen & Co.'s annual media conference in Sun Valley, Idaho, in July what's behind the studio's turnaround from fourth place in 2012, Ron Meyer, the veteran executive who's now NBCUniversal's vice chairman, simply said, "We hired Chris Meledandri."
Meledandri is the producer of Despicable Me 2, the highest-grossing animated film this year. The picture, which features comedian Steve Carell as the voice of a supervillain named Gru, has sold more than $840 million in tickets worldwide. In a summer marked by big-budget flops such as Walt Disney's $225 million The Lone Ranger and Sony's $150 million White House Down, Despicable Me 2 cost only $76 million. That puts it on track to be the most profitable film in Universal's 101-year history, says NBCUniversal Chief Executive Officer Steve Burke.
With Hollywood continuing to crank out pricey, special-effects-laden films designed to wow audiences from Brooklyn to Beijing, and revenue from home video off 17 percent from its $21.8 billion peak in 2004, studios will need to work harder at tightly managing budgets—Meledandri's forte. "What he is demonstrating today is that you can make very good movies at a reasonable cost," says Peter Chernin, the former CEO of Fox Entertainment.
The urgency to contain costs gets top billing in Hollywood these days. DreamWorks Animation SKG CEO Jeffrey Katzenberg says he'll lower the budgets of his animated features to an average of $120 million each, from $150 million. Disney said on Sept. 12 that it's capping spending on nonsequel films, after losing as much as $190 million on The Lone Ranger.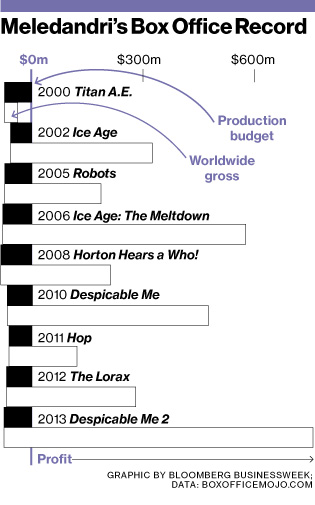 Meledandri, who began as a gofer to Footloose executive producer Daniel Melnick, had mixed success on his own, developing films such as Cool Runnings, about the Jamaican Olympic bobsled team, and Sister Act 2, the 1993 sequel to the Whoopi Goldberg hit. In 2000, Meledandri got a sobering lesson in risk management when he supervised the release of Titan A.E., an animated sci-fi feature that he says lost $100 million for Twentieth Century Fox. "My early career was less strategically directed. I was just trying to get movies made," he recalls. "I didn't like having that big financial failure. I didn't want to expose myself to those catastrophic results."
He decided to shift gears, jumping into computer-generated animation, then a new technology being pioneered by DreamWorks and Pixar, now part of Disney. And he embraced family-friendly pictures with broad appeal. At Fox, Meledandri created the Ice Age franchise, whose four films have grossed $2.8 billion worldwide. At Universal, his Illumination Entertainment production company has rolled out the two Despicable Mes, the 2011 Easter Bunny-themed Hop, and last year's Dr. Seuss' The Lorax. All had domestic box office grosses of more than $100 million.
Meledandri's films, which typically have a PG rating for mildly risqué humor and cartoonish violence, attract an audience that's as much over age 18 as under it. "The humor is sophisticated and topical," says Paul Dergarabedian, who heads box office research at the website Hollywood.com. "They're making them not only kid-friendly, but friendly for thinking adults."
While Meledandri says he has no secret formula, studio veterans cite his discipline in selecting projects that can be done at a relatively modest cost—by Hollywood standards—and then providing plenty of oversight to hit that number while getting pictures finished on time. "At a lower budget, you don't get to be a perfectionist," explains Bill Mechanic, a former CEO of Fox Filmed Entertainment, "so it's all about selecting ideas that work within your budget." Doing that successfully has allowed Meledandri to create in Ice Age and Despicable Me "two of the most successful animation franchises in history," Mechanic says.
That's tough in an industry where the cost of the typical film has risen 35 percent since 2003, according to Wade Holden, a movie analyst at SNL Kagan. Other animation houses may begin development of three or four pictures for every one they ultimately make. Meledandri says his ratio is closer to 1 to 1. At other studios, teams of animators periodically show their progress to higher-ups, while at Illumination, Meledandri is involved in approvals on a daily basis. "There is never a situation where a production proceeds down a path only to discover those with ultimate creative authority aren't in agreement," he says.
Meledandri's U.S. office has only about 35 employees. To bring his projects to life, however, Universal acquired the animation business of Mac Guff, a studio in Paris with a staff of almost 500. Making movies in France isn't about chasing cheap labor. Animators there make slightly lower salaries than in the U.S., Meledandri says, but benefits costs are much higher. Those animators, many of whom used to make pictures solely for the French market, are pros at working on limited budgets, says Franck Priot, chief operating officer of the French Film Commission. "We can do the same thing with less people, because we have to," he says. Universal also collects government production subsidies, which France increased from about $5.3 million per picture to $13.3 million in July.
Janet Healy, Meledandri's co-producer, says the company also saves by using a lot of commercially available software and focusing on the lead character in every frame. "We're not spending our money on every blade of grass and the leaves on the trees," she says. Meledandri also credits a strategy CEO Burke calls "symphony," in which all parts of NBCUniversal cross-promote big projects. Despicable Me 2 benefited from a blimp at the Kentucky Derby (which was televised on NBC), a ride at Universal's theme park in Orlando, and teasers on the company's USA Network and Golf Channel.
Meledandri is working on a Despicable Me spinoff, due in late 2014. He's also planning an update of a family favorite—Dr. Seuss' How the Grinch Stole Christmas! "I think he's got a vision," Healy says of her partner. "I just don't know what it is."
Before it's here, it's on the Bloomberg Terminal.
LEARN MORE