For a Fee, Guinness Will Help You Set a New World Record
For a fee, Guinness will help you win a place in its famous book
Ben Paynter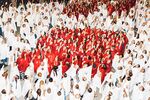 According to Guinness World Records, the tallest man alive is a 31-year-old Turk named Sultan Kösen. He's 8 feet, 3 inches. The oldest living woman is Japan's Misao Okawa. She's 115. But what about the largest human playing card? On July 13 exactly 600 people sporting red and white plastic rain ponchos crammed into the Turning Stone Resort Casino's event center just outside Syracuse, N.Y., to attempt that record, which didn't yet exist. An air horn blasted, and the participants, filled with free snacks and holding $20 gaming vouchers, popped their hoods and stood still for 5 minutes. The result: a 56-by-76-foot ace of diamonds made entirely with human pixels. "You're essentially trying to herd individuals with free will, and that's difficult," said the straight-faced Guinness World Record adjudicator, Philip Robertson, on hand in an official uniform (a blue blazer with a yellow-and-blue striped tie) to certify the achievement. Well, not so difficult. "We didn't have to do anything off the wall or crazy except stand there," says Pamela Hand, a 46-year-old medical administrative assistant. "My husband and I got to do something together and were a part of history."
It was a simple marketing stunt: Turning Stone paid Guinness $10,500 for a Silver Package, which included a consultant to help devise the human-playing-card concept, that superserious adjudicator, and a licensing agreement to use the Guinness trademark. Then Dan Jones, Turning Stone's director of casino promotions, took care of details such as buying red and white ponchos and luring participants.
Best known for its wacky almanac, Guinness has found a new life by selling these packages to corporate America. Consulting prices vary from roughly $7,500 for basic idea approval and adjudication, such as the 2009 promotion for Ice Age: Dawn of the Dinosaurs—20th Century Fox broke the record for tallest ice sculpture (49 feet, 8 inches)—to more than $20,000 for a live, multiple-record-breaking event. In April, Whole Foods Market landed in Guinness's pages for "cracking" the most Parmigiano-Reggiano cheese wheels at the same time. Since 2012, Guinness has worked with more than 160 corporate clients.
The initiative is overseen by Stuart Claxton, Guinness's cheery, British marketing director, who was born on Aug. 27, 1971, the same day as the publication of the first book in 1955. "It's destiny," he says at the company's office in a New York high-rise, which is decorated with life-size cardboard cutouts of record holders, including the woman with the largest Afro. Claxton realized that record coaching could be a natural evolution of the brand after several large companies asked them a few years ago for more direction before incorporating a Guinness event into their product campaigns. In most cases, Claxton says, consultants help companies think up new records, not beat old ones. Guinness shares the minimum standard of what must be beaten ahead of time. At Turning Stone, that was 250 participants. From there, companies plan and execute the event independently.
Consulting services now account for 20 percent of the company's revenue in the U.S., says Peter Harper, Guinness's senior vice president of the Americas. They're projected to reach 50 percent by 2015. Harper won't discuss total revenue, but Guinness's book sales are strong. The company moves about 1 million copies annually in the U.S. at a retail price of about $30 each.
The Guinness Book of World Records was commissioned in 1951 by Hugh Beaver, the managing director of Guinness Brewery, as a resource for pub dwellers seeking argument-solving arcana. The book was revamped in the mid-1970s to focus more on 7- to 14-year-olds who might want a new copy each year as a novelty item. The company split ties with the brewery in 2001 and was acquired in 2008 for an estimated $120 million by the Jim Pattison Group in Vancouver, a $7.5 billion conglomerate that owns everything from fishing fleets and auto dealerships to the Ripley's Believe It or Not! museums. Chief Executive Officer Jim Pattison's first order was to aggressively build the record adjudication business among corporate clients, according to Toronto's Globe and Mail. To attract businesses, Guinness tagged a number value to the media attention that accompanies a record: $330,000.
Although the specificity of that amount is highly debatable, "we did absolutely see a spike in sales," says Karen Houchens, marketing manager for the Cabot Creamery Cooperative, the New England-based maker of cheeses and other dairy products, which blended the World's Largest Smoothie—400 gallons—in May. (Cabot holds two other culinary records, for the World's Largest Grilled Cheese Sandwich, at 320 pounds, and the World's Biggest Dish of Macaroni and Cheese, at 2,469 pounds.) "For what marketing dollars we have, we have to make it go a heck of a long way—we're not Kraft," she says. "The Guinness record was $30,000 from start to finish and drew so much attention." After Cabot assembled the largest grilled cheese sandwich in New Orleans in 2010, Houchens says, the company saw a 15 percent sales bump over the next quarter.
In 2010, Guinness teamed up with Schick to demo the hydrating power of its Hydro shave gel. The resulting category, Longest Distance Traveled on a Slip 'n Slide in One Hour, drew 9,000 competitors. For Tostitos, Guinness helped think up Most Field Goals Kicked in 6 Hours, a public field-goal-kicking contest in Times Square. "Customer engagement is a big thing for our brand," says Frito-Lay PR Director Chris Kuechenmeister. The company also turned the event into a commercial that aired during the Tostitos Fiesta Bowl.
To date, almost all the companies that have consulted with Guinness have gone on to win records. No one wants to pay a fee only to fail. But "if people don't fail to get the records they try for, Guinness will lose all credibility," says Mark Weinfeld, a director at the Values Institute, a nonprofit that measures brand trust.
Corporate record holders aren't concerned about it. "Not at all," says Cabot's Houchens, who has the Guinness certificate hanging in her office. "It takes months of planning with the adjudicators, the presentation, making sure all the guidelines are set, having everything certified, getting all the right paperwork. This isn't Ripley's Believe or It or Not!, where it's all fake. Not everyone makes it, and it's not a hoax."
Before it's here, it's on the Bloomberg Terminal.
LEARN MORE