Angela Merkel's Years in East Germany Shaped Her Crisis Politics
By and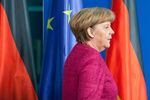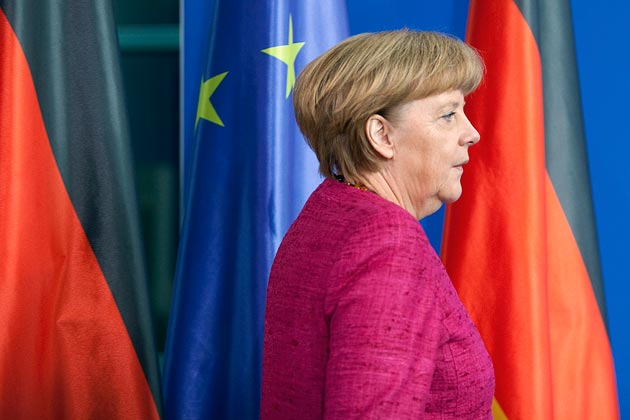 As Chancellor Angela Merkel seeks a third term in German parliamentary elections on Sept. 22, her policies on Europe and the euro have become a primary focus of the campaign. She has spent years grappling with the debt crisis and saving the region's common currency, clashing with policy makers across the Continent and across the Atlantic in the process. Despite her eight years in office, she can still come off as a bit awkward, a political outsider who grew up under Communism in the former East Germany and worked in a physics lab when the Berlin Wall fell in 1989.
Merkel's personality, her views of Europe, and her unique position among post-World War II German leaders are the subject of Angela Merkel: A Chancellorship Forged in Crisis (Bloomberg Press/Wiley) by Bloomberg News reporters Alan Crawford and Tony Czuczka, the first English-language biography that examines her role in Europe's financial crisis. This excerpt is taken from a chapter on her early years in Templin, a town 50 miles north of Berlin where her father ran a Protestant seminary in the woods on the edge of town.
In the summer of 1961, seven-year-old Angela Kasner—today better known as Germany's first female chancellor, Angela Merkel—squeezed into a Volkswagen Beetle with her mother, father, siblings, and grandmother to travel west for a vacation in Bavaria. After a month in the land of beer and lederhosen, the family returned to Templin, an ancient market town in East Germany that still bore the scars of an Allied bombing raid in 1944. Just three weeks after the Kasners returned home, the East Berlin government built the Berlin Wall, sealing off the border with West Berlin that was the last escape route for easterners seeking the greater economic freedom offered in the West.
In Templin that day—Aug. 13, 1961—Merkel's mother cried in church while her father, the pastor in the local Lutheran congregation, held the Sunday sermon. "Everybody was stunned," Merkel says. "That was my first memory of political events." Time magazine's cover the next week showed Walter Ulbricht, East Germany's Moscow-trained leader, with a chain and padlock. Nine days after the Wall went up, Ida Siekmann, 58, became the first person to die while trying to escape. Living in a building that straddled Berlin's dividing line, she died after jumped from the window of her fourth-floor apartment to the western side. For the next 28 years, free travel to the West was impossible for East Germans.
Angela Kasner was born July 17, 1954, in Hamburg, the cosmopolitan port city that was devastated by Allied bombs during World War II and would help launch the Beatles about six years later. Her father Horst Kasner, son of a Berlin police officer, had finished studying theology and was needed by the church. Bucking the exodus of East Germans fleeing to West Germany's reviving economy, he and his wife put their infant first-born into a basket and headed the other way. The first stop was a parish house in Quitzow, a farming village outside a former Prussian garrison town only 20 kilometers (12 miles) east of the intra-German border. Merkel said her father always intended to return to his native eastern Germany after studying in the western cities of Heidelberg and Hamburg. Merkel's mother, Herlind, an English teacher who had grown up and met her husband in Hamburg, went along "out of love."
Suspect to the regime because the family wasn't part of the "workers' class," the pastor's wife was barred from teaching, so she became a stay-at-home mother. In 1957, the family moved to Templin, a market town of fewer than 20,000 inhabitants some 80 kilometers (50 miles) northeast of Berlin, where church authorities asked Horst Kasner to set up a theological seminary. Angela Merkel grew up in the "Waldhof " complex on the edge of town, perched on a bluff above the Templin canal and bounded on two sides by pine forests.
By her own account, Merkel's parents loom large in her life. Her father, whose position soon made him an influential and busy clergyman, taught her "clarity of argument" and "logical rigor." Her mother was the one for emotional warmth. It was from Horst Kasner, not at school, that Merkel learned the difference between telling a story and constructing an argument. This dialectical task, known as Erörterung, which can be translated as "determining a position," is still part of the German school curriculum. It starts with defining one's terms, ascertaining the facts and outlining the arguments in favor and those against, followed by a presentation of the opposing viewpoint. Only then is one's opinion revealed, along with the possible implications. Young Angela Kasner displayed other qualities she would later bring to the world stage and the debt crisis.
Her great childhood idol was Polish-born Marie Curie, who "toughed it out in Paris" and won her first Nobel prize in physics and a second in chemistry—the fields Merkel would go on to pursue. Had the family stayed in West Germany, Merkel says she probably would have emulated her mother and become a teacher. Other traits emerged: she was cautious and cerebral. In a country fixated on winning Olympic medals for the glory of communism, Angela Kasner struggled with fear in gym class. "I didn't like high speeds," she says. As a nine-year-old, she famously stood atop the three-meter diving board at the Templin pool and waited 45 minutes before screwing up the courage to jump just as the period was ending–an image later invoked by critics of Merkel's handling of the debt crisis. She was methodical, collecting modern-art postcards and planning Christmas presents two months in advance. "I always wanted to know what I'd face next, even though that was maybe a bit detrimental to spontaneity," she says. "Structuring my life and avoiding chaos was more important."
Politics interested Merkel early on, though she looked outside East Germany for inspiration. At 14, she hid in the school lavatory to listen to the radio broadcast of a West German presidential election. While others might have tuned in to rock music that day in 1969, Angela Kasner was captivated by the assembly of delegates that appointed Gustav Heinemann, a 69-year-old Social Democrat, to the largely ceremonial post in the other part of Germany.  It was a small act of rebellion that kept her connected with the West.  Politics were never far below the surface in the seminary her father led at Waldhof, where young trainee pastors came and went, exchanging ideas. Church faith ran counter to the state's communist ideology, and the Stasi secret police infiltrated congregations and church groups as they did every other aspect of life in the GDR. Yet there was also a recognition of the welfare work the church performed in places such as Waldhof. By remaining deliberately open in the certainty that everything was being monitored, the church became the one sphere of East German life where alternative viewpoints could be expressed, a counterweight to the regime rather than a rival power base.
Angela Kasner tried her first cigarette at 14 and didn't like it, only to "really start smoking" after graduating from university in the late 1970s. In the summer, she went swimming with friends.  The next year, her studiousness won her a trip to Moscow for a Russian-language competition. She came back with her first Beatles album, bringing the sounds of "Yellow Submarine" to the Waldhof. She wore clothes shipped by relatives in West Germany—not primarily to flaunt fashion, she says, but because her father didn't earn much.
After graduating from high school in 1973, she wanted to make a break with her parents and strike out on her own. Even before graduation, she had traveled with friends to Prague and points further east, just to get away. Now, she moved to Leipzig, 270 kilometers (170 miles) to the south, to study at Germany's second-oldest university, whose past luminaries included quantum physics pioneer Werner Heisenberg. Outside the classroom, Merkel worked as a barmaid, mixing drinks at weekly disco parties in the physics building. She proudly recalls that the students played mostly Western music, defying a rule that called for a 40 percent share of home-grown tunes.
Angela Kasner's first marriage illustrated her ability to make a sudden break and move on if something doesn't work. She and fellow physics student Ulrich Merkel first met in 1974. They were married three years later at the Templin church, in part because the regime allowed only married couples to share an apartment and work in the same city. At first, that meant a 10-square-meter (100-square-foot) room with a shared bath and toilet. "Sounds spartan, but it was enough for us," Ulrich Merkel said in a 2005 magazine interview. He liked Angela "because she was a very friendly, open and natural girl." She also had "a very sharp intellect, unbelievable energy and was always very ambitious." When the marriage fell apart in 1981, it was she who walked out. "One day, she packed her bags and moved out of our apartment. She had sorted it out for herself and drawn her conclusions," her first husband recalled.  "She took the washer; I kept the furniture." She also kept his name, even after marrying her second husband.
Also during those years, Angela Merkel made a crucial decision to turn down the Stasi. While finishing her studies at the end of the 1970s, she applied for an assistant professor's post at an engineering school. Stasi officers demanded she sign up to inform on her co-workers to get the job. She says she refused, feeding the recruiters a line suggested by her parents: she wouldn't make a good spy because she couldn't keep her mouth shut. Turning down the feared secret police ended Merkel's bid for the professorship; the regime wouldn't let a person it considered ideologically suspect teach students. She took a post at the East German Academy of Sciences in Berlin, spending years in research and completing her Ph.D. in quantum chemistry in 1986. At the academy, she met Joachim Sauer, a quantum chemist five years her senior who became her second husband. Any work for the Stasi would have made a political career in reunited Germany impossible. Merkel found that out firsthand when Wolfgang Schnur, the head of Democratic Awakening, was exposed as an informer two weeks before East Germany's 1990 election and quit in disgrace.
While Merkel wasn't a dissident, she rebelled against her father's political views. Initially critical of the East German regime, Horst Kasner increasingly reached an accommodation with East Germany's rulers – for the sake of the church and, perhaps, his family. Merkel says her father, who died in 2011, was captivated by the ideas of "socialism with a human face" – the slogan associated with the Prague Spring reforms that ended with a Soviet-led invasion of Czechoslovakia in 1968 – and "liberation theology," the Roman Catholic movement for social justice in Latin America.
Those political directions were anathema to Merkel, who says she had concluded that East Germany was stifling and dysfunctional. Her father had a "milder" view of the communist state and, after reunification freed him to speak his mind publicly, criticized consumerism and the power games of politicians, just as his daughter was starting to rise in the system. Her father could be a taskmaster. When Merkel and her first husband separated in then-East Berlin, she needed a new place and came up against the city's housing shortage. Friends from the science academy forced open an old apartment near the Friedrichstrasse train station and helped refurbish it, using bureaucratic tricks to defeat the authorities. Lacking a state permit for the run-down place, Merkel was living like a squatter. When her father visited her there on her 30th birthday, he wasn't impressed. "You haven't gotten very far,'' he said. That would change as East Germany and its outdated economy headed toward oblivion.
When East Germany's communist regime buckled in the face of pro-democracy protests and opened the Berlin Wall on November 9, 1989, Merkel was a 35-year-old divorcee working in quantum chemistry at the Academy of Sciences in East Berlin, and a stranger to political activism. "The way I lived my life, I truly wasn't an active resistance fighter," she recalls. She had been best in her class in high school. At university in the 1970s, she delved into physics because she relished the challenge of "something that didn't come easy." It was also the only subject she ever failed in school, a field that produces results by scientific method and experimentation, rather than gut instinct. While Merkel wasn't handy with a soldering iron in the physics lab, "theory was tangible" for her. Her church background limited her choice of fields, though studying the natural sciences may have shielded her from the worst pressures of the police state. What she liked about physics was that "the truth couldn't be distorted so easily" as elsewhere in the communist state. Growing up this way made Merkel a fighter. "Everything was always a struggle: to avoid attracting attention at all costs, to always be a little bit better than the others."
Merkel moved cautiously the night the Berlin Wall opened. She saw the bumbling official announcement of free travel on television and called her mother to say she thought they could soon travel to West Berlin. Then she went for her regular Thursday evening sauna. Excitement did get the better of her when she came out. A few blocks from her apartment, the Bornholmer Strasse road crossing to West Berlin was the first to open that night. Faced with a swelling crowd shouting "Open the gate, open the gate," the border guards, unsure about what exactly the regime had ordered, gave up without firing a shot and let the jostling crowds through. Merkel skipped her postsauna beer, joined the throng, and wound up celebrating with strangers in a West Berlin apartment. Dutifully, she put off visiting the Kurfürstendamm shopping boulevard, went home to sleep and took the train to work as usual the next morning. "I didn't want my head to sag to my desk," she said. Only later that day did she and her sister visit the boulevard, West Berlin's showcase of consumer culture.
As Soviet leader Mikhail Gorbachev decided to let events in East Germany run their course, the communist regime was doomed. Three weeks after the Wall's opening, Kohl presented a 10-point plan for German unification that called for free elections and a market economy in East Germany. Its people should "reap the fruits of their labor and achieve greater prosperity," he said.
Angela Merkel learned the contradictions of the East German economy from picking blueberries as a child. She brought part of the haul home to her mother and sold the rest to boost her allowance. That was where the planned economy and price controls came in. The state bought blueberries for four East German marks per kilo, then subsidized them to keep prices artificially low. The system wasn't hard to figure out. "One of us sold them. Another one of us went to the store an hour later and asked if they had blueberries. At that point he could buy a kilo for two marks."
When the Berlin Wall fell, tough economic questions loomed immediately behind the euphoria of reunited families and the end of the Stalinist dictatorship. After decades of neglected investment and failure to innovate, East Germany's economy was dead. East Germans wanted the deutsche mark – the currency that underpinned West Germany's postwar "economic miracle" and symbolized the country's global success – or they would head west en masse to get it. (East Germans were automatically eligible for West German citizenship.) West German policy makers scrambled to draw up plans to introduce the deutsche mark in the East. A decade before the euro's arrival, it was Merkel's first experience with a currency union, and it wasn't pleasant. Defying the economic gap between the two countries and warnings by the Bundesbank, Kohl's government decided on a one-to-one swap for East German marks. Karl Otto Pöhl, who quit as the central bank's president after reunification, says the conversion, on July 1, 1990, made East German companies "insolvent overnight" by forcing them to pay wages and bills in deutsche marks they didn't have and couldn't earn. Anyone with debts woke up to find them halved, while the cost of everyday items soared as state subsidies were removed and price controls lifted.
As her country headed toward its demise, Merkel moved up. Lothar de Maizière, a viola-playing lawyer of Huguenot descent, became East German premier after winning March 1990 elections at the head of a party alliance that included Democratic Awakening. He chose Merkel as his deputy press secretary at the suggestion of CDU envoys who had organized the alliance. She had her first post with the responsibilities of government, only to get a frontrow seat for East Germany's collapse. Those months in 1990, when euphoria over Germany's internal currency union turned sour, shaped Merkel's response to the debt crisis, her prescription of budget austerity, and her notion of aid. "I come from a country in which I experienced economic collapse," she said in September 2012, drawing attention to a part of her past she rarely expands on publicly. "At German unification, we were lucky to get so much help from West Germany. Now, we have the good fortune of being able to help each other in Europe." Yet if debt reduction isn't done "sustainably and with a view to the long term, Europe simply will no longer be the prosperous continent that the world listens to and that gets people's attention." Giving aid to euro countries struggling with debt only makes sense "if things are better afterwards, not even more difficult."
Before it's here, it's on the Bloomberg Terminal.
LEARN MORE