pursuits
The Career Consequences of Raising a Child With Allergies
By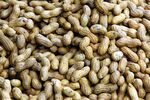 Raising a kid with a serious food allergy requires a commitment to prevention and treatment, in ever-shifting proportions. Depending on the allergy and the kid, some parents have an easier time than others. In a recent survey, about 9 percent of parents of kids with food allergies say it's affecting their careers—yet another reason to resent peanuts.
The rate of children with food allergies increased 18 percent from 1997 to 2007, the Centers for Disease Control and Prevention found. While parents pay a lot for medicines and special foods, the single biggest expense is "opportunity costs," claims a new report in JAMA Pediatrics. These are the often overlooked job-related costs, such as having to give up a job or chose a career that allows them to take care of their child, according to the researchers.
About 6 percent of parents said their choice of career is restricted (they reported an average $15,655 loss per year each as a result), 5 percent resigned from a job ($29,657), 2 percent claimed they were fired as a result of caring for a child with food allergies ($14,894), and 2.5 percent took a lower-paying job at their company ($10,605).
Experts disagree on the number of children with food allergies. These researchers estimate it's about 5.9 million kids, which would put the total opportunity cost to U.S. families around $14.2 billion per year. That's more than half of the total $24.8 billion economic cost of food allergies in the country (about $4,184 per year per child). The report was based on a survey of 1,643 caregivers of kids with food allergies.
"Food allergies are challenging for families and do impact their career choices," says Ruchi Gupta, a pediatrician at Ann & Robert H. Lurie Children's Hospital of Chicago who led the study. "Parents need to be able to respond immediately, so they may not want jobs that require traveling. They may need to be at the school during meal times or for field trips and class parties."
Other work-related costs measured in the survey include lost labor productivity (such as taking time off for medical visits), which totaled $770 million.
While it is important for employers to be understanding, Gupta says it is important for schools and other facilities to have food allergy policies and train staff. "This may help parents feel more confident that their child is safe when they are away from them."
Before it's here, it's on the Bloomberg Terminal.
LEARN MORE