B-School Traditions: Michigan MBAs Get on 'The Bus'
Geoff Gloeckler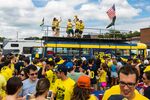 College football and tailgating are big social events for B-schoolers on Saturdays in the fall. But no one does a tailgate quite like the MBAs at the University of Michigan's Ross School of Business.
Before—and after—each Wolverines home game, Ross MBAs trek over to Fingerle Lumber Yard and set up their tailgate. The centerpiece: a 1985 Ford school bus, painted in Michigan maize and blue and outfitted with a DJ and dance floor on top and couches on the inside. It's affectionately known as The Bus.
For more than a decade, ownership of the Bus has been passed down from outgoing second-year MBAs to incoming second-years as a right of passage. Each member of the 55-person Bus Crew chips in to buy the bus from the prior class. "As you can imagine, a 1985 school bus isn't worth that much, so it's not hard to come up with the money," says Emiko Neithercut, a member of the Bus management team and a second-year Ross MBA. This year the price was $475 per person, which covers the actual bus, insurance, and the capital needed to fund the tailgates.
Members of the Bus Crew are charged with upkeep of the Bus (the dance floor had to be replaced last year after the wood began to warp) as well as setup and cleanup for the weekly tailgates, which attract in excess of 500 current students, alumni, and friends each Saturday. Recruiters are not invited. "We want people to come and have fun with their classmates without having to worry about anyone being there in any official capacity," Neithercut says.
There is a big perk for joining the Bus Crew, Neithercut says: "Only members get to use the dance floor."
Join the discussion on the Bloomberg Businessweek Business School Forum, visit us on Facebook, and follow @BWbschools on Twitter.
Before it's here, it's on the Bloomberg Terminal.
LEARN MORE