Timothy Geithner, Treasury's Man With a Plan, Paved Path to Recovery
by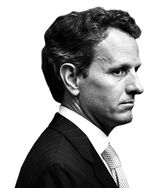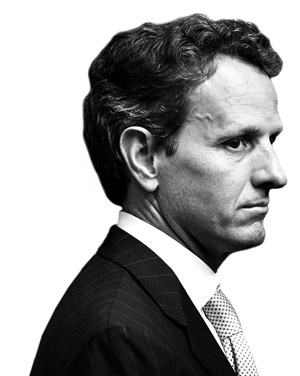 Whether by nature or design, most cabinet-level officials are extroverts with fully realized public personas. They're ex-bankers, ex-generals, or ex-pols. Timothy Geithner was always different, a career bureaucrat whose U.S. Secret Service name, "Fencing Master," alludes to his skill at the inside game.
This may be why everybody misjudged him. Geithner's debut speech as Treasury secretary on Feb. 10, 2009, was a disaster. He was supposed to soothe the markets by explaining the strategy for halting the meltdown. Instead, the Dow Jones industrial average plummeted 382 points. Soon, Geithner was the subject of incessant speculation that he would be the first Obama official pushed out.
The public and private stories were diverging: To the outside world, Geithner was a dead man walking, but inside the White House he was winning. A few weeks later, administration officials unveiled a more detailed proposal that they referred to as "the Geithner Plan"—an effort to shield President Obama from blame if it failed. They knew his presidency could be on the line.
Geithner's plan worked. He thought the fastest path to recovery entailed three things. The Federal Reserve would lower borrowing costs. Congress would fill the gap in demand with a stimulus package. And the administration would devise a way to quickly recapitalize banks so they could absorb losses and keep lending.
The latter was easier said than done. Terrified bankers lacked the confidence to lend, and fortifying banks after a financial crisis historically entailed huge infusions of taxpayers' money. One Cleveland Fed study indicated the bill to U.S. taxpayers could reach $1.5 trillion. The Geithner Plan solved both problems. Its much-maligned "stress tests" quelled bankers' panic. This made possible Geithner's real innovation—the idea that private investors, rather than taxpayers, could supply the money to recapitalize wobbly banks. But this entailed a steep political cost. Because the plan relied on luring easily spooked private capital, Obama would have to refrain from inflicting the punishment on Wall Street that Americans were longing for.
Geithner took flak for "putting the interests of Wall Street above Main Street." He also missed opportunities that might have sped the recovery, seeming not to recognize the damper that consumer mortgage debt would put on growth, nor the value in filling Fed vacancies, which might have strengthened Chairman Ben Bernanke's hand. But his strategy halted the meltdown and returned the economy to growth at a fraction of what history said it should cost.
Geithner never did develop an outside game. But he won the inside game. Obama bet on his plan and stuck with him, and Geithner outlasted nearly everyone. When he left in January of this year, he was recognized as Obama's key economic adviser. As Gene Sperling, the director of the National Economic Council, said: "He went from someone who people were unsure of in the first six months to achieving the elevated status of being the guy who made the toughest and loneliest calls at the most politically perilous moments—and turned out to be right."
Before it's here, it's on the Bloomberg Terminal.
LEARN MORE