Ireland's Finance Minister Renegotiates Euro Bailout via Diplomacy
"Lads, we took one for the team"
By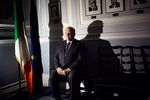 July 26, 2012: Ireland returns to global bond markets
"We started with Christine," says Michael Noonan. He means Christine Lagarde, a friend and also the head of the International Monetary Fund. Noonan is Ireland's finance minister, and in 2012, Lagarde's was only one of several approvals Noonan would need for a creative refinancing of some of his country's roughly $222 billion in sovereign debt. "I said, 'Look, Christine, we're doing great, we're fulfilling all the obligations that you've asked us to fulfill, and we'll continue to do that. But we still won't fix the Irish problem, and consequently, there'll be a problem in Europe as well.' " Wrapped in his personal warmth is a rhetorical device borrowed from the mob: Nice euro you got there. Be a shame if something happened to it.
Noonan, 70, speaks in a rapid, tight-mouthed mumble, a widely imitated source of amusement in Ireland. He was once competitive at hurling, a warlike ballgame played on foot with clubs. He has a way of interrupting his stories with his own laughter. He needs those laughs. Noonan has one of the most challenging jobs in the world.
Ireland ran surpluses before the financial crisis, but when the country's real estate market evaporated, so did transaction taxes as a source of revenue. In 2010 the country agreed to back all the liabilities of its failing banks, a move that ultimately cost $80 billion, helping drive the country's debt to now 125 percent of gross domestic product. That same year, and as a direct result, Ireland accepted an $88 billion bailout from the so-called Troika—the IMF, the European Commission, and the European Central Bank (ECB). The country backed its banks, then needed backing from Europe. Since Noonan became finance minister in early 2011, he's been constantly negotiating with Ireland's creditors. He's had to perfect a new discipline: financial diplomacy.
"The most essential thing in Europe is, first of all, you need to know what you want," he says, sitting in a hotel bar overlooking the River Shannon in his home county of Limerick. His colleagues, other finance ministers, travel to the continent's endless circuit of meetings, but some don't know what they're asking for, he says. "I have a very clear view of what I want all the time."
There are several different ways to be a country in trouble in the euro zone. Spain insisted it was not in trouble at all. Portugal asked for help, but then couldn't quite bring its deficits down. Greece hanged Angela Merkel in effigy, then played crazy—if you don't give us a better deal, we may just accidentally set this whole house on fire. Ireland meekly accepted its guilt and its fate, declined to demonstrate or riot, and, since the bailout, has consistently hit its quarterly targets for the IMF. If Greece was the pyromaniac child, Ireland's been the good son.
"Just implementing is tough," says Philip Lane, an economist at Trinity College Dublin. In other countries, governments have collapsed just trying to follow the Troika's instructions. Ireland's previous government had a terrible reputation, he says, and "what [Noonan] did to rebuild trust is not to be underestimated." Irish politics favors consensus and continuity, says Lane, which is bad if the consensus is inflating a property bubble, but good if you're trying to hold to a bailout program signed by the last administration. "We said we'd fix it alright"—by "it" Noonan means everything—"but we said we'd fix it by accepting the main elements of the program that had been negotiated with the Troika," he says, "and then saying we'd renegotiate it. And we hit the ground running."
Immediately after entering office, he took issue with one of the terms of the country's 2010 bailout. Ireland's loans through the European Financial Stability Facility (EFSF) cost an extra 3 percent of interest over what the European Commission had paid to raise the money. This premium was meant to address the risk of what financiers call moral hazard. "So that we don't do it again, you know," Noonan says. "I just explained to them like this. We actually didn't need an interest rate as moral hazard." He laughs. "When we're getting kicked around every time we run for a drink, we're getting kicked around by the electorate, we didn't need any additional provisions for moral hazard, you know?" In July 2011 euro-zone leaders agreed to dump the premium and extend the duration of the EFSF's loans to Ireland, Portugal, and Greece.
Noonan moved on to a plan the Irish government called Project Red. In his friendly shakedown with Lagarde, he argued that no matter what Ireland did with its deficit, its debt would continue to weigh down the country's economy and its credit rating. The yearly bill on just the debts of the Irish Bank Resolution Corp. (IBRC), an emergency merger of two failed banks, ran to $3.9 billion. Ireland was prepared to pay everything back, Noonan explained, but he needed more time. Ireland laid out Project Red as a way to extend the payment schedule for the IBRC. The project would swap the government's existing promissory note on the corporation's debts for long-term bonds with maturities of 40 years. The move would reduce what the country needed to borrow over the next decade by $27 billion.
Project Red was complicated by design. The governments of the euro area—in particular, Germany—worry that lenience toward one country might give another ideas. So Noonan had to craft an unrepeatable plan, which didn't "have the effect of a European precedent, where there's a queue forming behind you," he says. "That's very important." But he still needed permission to do it. Lagarde gave Ireland one-third of the Troika's endorsement. Mario Draghi, at the ECB, was amenable, but wouldn't sign off without unanimous approval from his executive board. One Troika member down, one leaning, one to go. On to Germany.
In theory, the European Union operates through a complicated decision-making process, balanced among state ministers, the European Commission, and the European Parliament. In practice, Germany makes the decisions. It has the money. In September 2012, before an informal meeting of European finance ministers in Cyprus, Noonan scheduled a roadshow that took him to Rome, Paris, and Berlin. A meeting with Wolfgang Schaüble, Germany's finance minister, went well. "I'll meet you in Cyprus," Schaüble said to him, "and we'll talk to a couple of people."
With Schaüble's help in Cyprus, Noonan pulled aside Jörg Asmussen, a German on the executive board of the ECB and a likely holdout on Project Red. After several hours, Noonan offered a symbolic concession. Would it make a difference, he asked, if the IBRC were to lose its banking license? "And [Asmussen] says, 'Yeah, that would make a huge difference, because we're no longer dealing with a bank,' " says Noonan. That way, Project Red can't be a precedent for other banks in other countries. Ireland's prime minister, Enda Kenny, announced the deal on Feb. 7, 2013.
Ireland's government has learned the art of European solidarity. "I understand that previous Irish ministers would simply kind of make a case for Ireland," Noonan says. "I get involved in the whole European agenda." Ireland held the rotating presidency of the European Union for the first half of 2013, and helped create an agreement among European leaders on resolving failed banks in the future. "And that went down well," he says. "We were seen as very good Europeans." Noonan does not go hat in hand to the continent. Ireland is not a problem state. Ireland is just another state, working like everyone else to solve the big problem.
This approach demands just enough guilt to soften a good European's heart. Noonan likes to stand up in meetings and quote a line he attributes to Ronald Reagan: "We took one for the team!" he exclaims. "And it's known in Europe. The main bondholders were the French and German banks. Everyone knows who was rescued, you know? So, like, lads, we took one for the team."
This year unemployment ticked down slightly in Ireland, although it remains higher than 13 percent. Foreign investment has returned to the country, but the Irish aren't spending their own money. They're paying down debt and holding on to what cash they have. On a five-block stretch of Limerick's main shopping street, 12 storefronts are empty. Before the property boom, the country's economy relied on exports, but it's hard to export to a market that's not buying. Ireland's economy is stuck, waiting for the rest of the world to get it together.
Michael Noonan has a new project. Euro-zone finance ministers have agreed on the principles of a plan to recapitalize banks directly, through the $650 billion European Stability Mechanism. Noonan has said publicly he would like the fund to apply to Ireland's banks retroactively to ease the debt the country took on in 2010 to shore them up. "I don't see it as an issue of hammering the door in Europe and saying we need more money in Ireland because we rescued the European banks at one point and it cost us an awful lot of money," he says.
He doesn't yet know exactly how he'll ask. He's working on a plan. "All I need at the moment is serious people to agree in principle," Noonan says. "Then we can, you know, it'll be like the promissory. Nobody thought we'd come up with the arrangement we came up with exactly, but you know, we worked our way through it. There are a lot of competent financial engineers around, underworked." He begins to laugh again. "Underemployed."