Polar Sea Lane Finds Favor as Suez Security Doubts Grow
Chris Jasper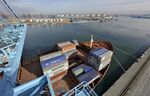 Polar shipping lanes that are opening up with the retreat of ice in the Arctic Ocean are attracting more traffic as instability in the Middle East raises concerns about the security of the Suez Canal.
A China Ocean Shipping Group Co. vessel docked in Rotterdam on Sept. 10 after sailing from Taicang City, near Shanghai, via the Arctic, two weeks after another Cosco craft came under fire in the canal. Taking a polar route cut the journey by nine days.
China is exploring its options as turmoil in Egypt and Syria combines with pirate attacks off Somalia and in the Malacca Strait, calling into question the security of a Suez route used by 18,000 ships each year. Voyages via Russian or Canadian waters or even across the pole are becoming viable as the seasonal melting of Arctic ice becomes more pronounced.
"The Russians have been serious about this for a decade and are now ready for traffic," said transport strategist John Higginbotham, head of Arctic research at the Centre for International Governance Innovation in Waterloo, Ontario. "China for one is serious about the possibilities, and if you took Suez out of the equation the take-up would be dramatic."
International Maritime Organization Secretary-General Koji Sekimizu last month made a five-day, 1,700 nautical mile fact-finding trip through Siberian waters on a Russian icebreaker. The United Nations agency, which is drawing up the first detailed safety code for ships plying polar seas, said the visit reflected increased industry interest in northern routes.
Ministerial Call
The 27-day, 7,800 nautical-mile voyage by Cosco's 19,000-ton Yong Sheng via the Bering Strait and Northeast Passage cut 2,800 miles off the trip through Egypt and the Mediterranean Sea, China's official Xinhua news agency said. Vice Transport Minister He Jianzhong phoned the ship's captain mid-voyage to stress the importance of the undertaking.
The Chinese mission will be followed on Sept. 15 by one involving a tanker operated by the Hyundai Glovis Co. shipping arm of South Korea's Hyundai Motor Co. and carrying 37,000 tons of naphtha from OAO Novatek of Russia bound for Yeochun NCC Co. in South Korea.
The ship will leave Ust-Luga, near St. Petersburg, on Sept. 12 and cover 15,500 kilometers (9,600 miles) in 35 days to reach the port of Gwangyang. The route will save 10 days and 6,700 kilometers and "help boost the competitiveness of the Korean logistics industry," Hyundai said in an e-mail.
Icebreakers
While both experiments involve ice-resistant models comparatively rare in the global fleet that still must be escorted by Russian icebreakers, exploration of the northern route by companies from two of the world's biggest economies signals a new level of interest in alternatives to the Suez Canal, a keystone in world trade since its opening in 1869.
The waters off Siberia first became sufficiently ice-free in the summer for voyages to be contemplated in 2005, with satellites suggesting in 2008 that the route might be passable. The breakthrough came in 2009, when the now-defunct German heavy-lift specialist Beluga Shipping GmbH sent two vessels, each carrying 3,500 tons of freight from Korea to Rotterdam.
Other pioneering trips have included the first commercial Arctic voyage with mineral cargo, made in 2010 by Hellerup, Denmark-based Nordic Bulk Carriers A/S, which followed up with multiple sailings last summer moving iron ore from Murmansk, Russia, to China, plus the transit of gas condensate by Novatek.
LNG First
Russia's OAO Gazprom was first to transport liquefied natural gas via the route, with a ship by sailing from a terminal in Hammerfest, Norway, that serves the Barents Sea gas field, to Japan, the world's largest importer of LNG.
Even without a security threat in Egypt, CIGI's Higginbotham estimates that the Russian route can become competitive with the Suez Canal in 10 or 20 years. The Northwest Passage in northern Canada -- where the many islands can help form barricades of drifting ice -- may be viable in 30 or 40 years, and the pole itself permanently open water in about a century.
Any significant attack on the canal or repeated assaults on ships passing by, like that on the Cosco Asia on Aug. 1, may accelerate the process as companies become more willing to fund icebreaker escorts, he said, adding that a tipping point may come once the Arctic is open for six months, versus four today.
In the Cosco incident, a container ship was fired on and hit by a rocket-propelled grenade, or RPG, an act which "sent a wave of shock through shippers the world over," Gary Li, an analyst at IHS Maritime in Beijing, said in the journal Safety at Sea.
Medical Supplies
"We think the canal is safe enough to transit, but there's definitely a risk of small arms fire, as well as RPGs," said Kevin Doherty, president of Alexandria, Virginia-based Nexus Consulting. "Despite what the Egyptian military is saying, which is that everything is fine, as far as the marine world is concerned then they should take no risk and stay behind some steel."
Doherty added that RPGs are theoretically capable of penetrating ship hulls, especially if two shots strike in the same area, and that even double-hulled vessels could be destabilized. The attack has been blamed on Al Furqan, a group based in the Sinai desert that's sympathetic to al-Qaeda and hostile to the use of the canal by American warships.
Container Trade
Any closure of the canal would have a huge impact on world trade, according to IHS's Li. Almost 40 percent of ships using the link are container vessels. The include all those working Asia-Europe routes for A.P. Moeller-Maersk A/S, owner of the largest container line, which says it is tracking developments in the Arctic closely but has no plans for any test sailings.
About 16 percent of craft in the canal are bulk carriers, while 9 percent transport chemicals and 7 percent crude oil.
The canal's longest shutdown came after the 1967 Six Day War with Israel, when it closed for eight years following the scuttling of ships by Egypt and the mining of its waters. The still-closed link was fought over during the Yom Kippur War, which precipitated the 1973 oil crisis after Arab countries proclaimed an embargo on crude over U.S. support for Israel.
Higginbotham said that while the canal delivers $5 billion a year to Egypt in "hard currency," making its protection a high government priority, the scope for attacks is very varied given the level of technology available to terrorists.
"If I were in the business I'd get out my pencil and paper and look at the maps and routes and make plans that would minimize disruption and costs and keep trade going," he said.
Before it's here, it's on the Bloomberg Terminal.
LEARN MORE