Scene Last Night: Natalie Portman, Millepied, Zeckendorf
Amanda Gordon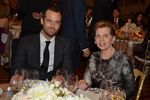 Benjamin Millepied, incoming director of the Paris Opera Ballet, read a Twitter message from George Soros last night, quoting Jim Yong Kim, the president of the World Bank Group:
"Many countries often think of education as an expense. We want to say these are the most strategic investments you can make in a country."
Millepied then described his own ideas for enhancing the Paris Opera Ballet's education programs, including bringing dance classes to the suburbs of Paris.
"Dance class can be a refuge for children who spend most of the time in a very difficult environment, a place where they learn to be themselves, become confident and disciplined," he said.
As a model, he offered a charter school in California where students take one hour of dance a day and achieve some of the best academic results in their district.
Millepied, who assumes his post in a year, gave the remarks during a dinner party at the Consulate General of France in New York. Also attending were his wife, Natalie Portman, who caught up with Harvard classmate Jennifer Coyne, as well as France's ambassador, Francois Delattre, Terra Holdings LLC Co-Chairman William Lie Zeckendorf, and Kinga Lampert, who's on the board of the American Friends of the Paris Opera & Ballet.
The hosts of the event were the president of Vacheron Constantin North America, Hughes de Pins, the Consul General of France, Bertrand Lortholary, and Olivia Flatto, chairman of the American Friends of the Paris Opera & Ballet.
First Season
In a salon overlooking Fifth Avenue, Millepied offered plans: His first season will open with a new work and an installation of dancers throughout the Palais Garnier. He wants new scores, new costumes. He wants to perform in museums and collaborate with visual artists.
"Artists challenge each other's ideas," Millepied said. "That is how we sometimes discover a new way of thinking and reflect interestingly upon ourselves."
One project that is "dear to my heart," Millepied said, is the creation of the Academy of Choreography. Starting in 2015, six students will spend a year studying choreography, dance and art history. They will also attend museum shows, see performances all over Paris, and choreograph new work.
New Ideas
"I think he could make a big difference," said Lily Safra, a major patron of the Paris Opera Ballet. "He has new ideas, he's very clever. He understands about art in general. What he knows about painting, you have no idea."
"He will change everything in the best way," said Christophe Danzin, director of individual philanthropy for Paris Opera & Ballet. "Every woman in Paris wants to meet him, and every man wants to meet his wife."
(Amanda Gordon is a writer and photographer for Muse, the arts and leisure section of Bloomberg News. Any opinions expressed are her own.)
Muse highlights include Jeremy Gerard on theater and Susan Antilla on books.
Before it's here, it's on the Bloomberg Terminal.
LEARN MORE