McDonald's Beefs Up Its Breakfast Menu With Steak
By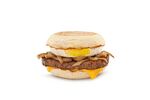 To shake up the bacon-or-sausage duopoly of the morning, McDonald's says 9,600 restaurants nationwide will now serve any of its breakfast sandwiches with steak. That's right: steak and eggs at McDonald's. The red meat also recently made its way onto menus at Dunkin' Donuts, which last week introduced a limited-time Angus Steak Big N' Toasted breakfast sandwich. Because sometimes, shockingly, you just don't want bacon.
As part of McDonald's "steak on any" breakfast option, consumers can now pay to add steak to an Egg McMuffin, a McGriddles sandwich, an Egg & Cheese Biscuit, or an Egg & Cheese Bagel. They can also substitute steak for sausage in any platter, such as the Hotcakes & Sausage combo. It's a premium item—the Steak McMuffin, for instance, costs $3.49 in New York, compared with $2.49 for a regular McMuffin. The chain started rolling out the steak option last month.
I tried a Steak, Egg & Cheese McMuffin this morning. Replacing the Canadian-style bacon, the steak made the sandwich heartier than a regular McMuffin (it's 6.6 ounces vs. 4.8 ounces). The round patty is topped with onions and seasoned with salt and garlic, and the savoriness is strong: One sandwich has 41 percent of the recommended daily value of sodium, compared with 33 percent in the original.
Darren Tristano, an executive vice president at food industry consultancy Technomic, says McDonald's is trying to improve U.S. same-store sales growth, which has stagnated over the past year. (Comparable sales in the U.S. were up 0.2 percent in August and 1 percent in the second quarter.) Consumers perceive steak as a high-quality meat, and "McDonald's is continuing to put better quality on the menu," he says.
Also, Tristano explains, as eating conventions have changed, consumers now want breakfast foods at night (some McDonald's restaurants are offering breakfast after midnight) and dinner foods (like steak) in the morning.
McDonald's isn't the first fast-food chain to serve steak in the morning—Subway offers a steak, egg, and cheese sandwich. Wendy's also introduced a steak and egg sandwich several years ago, but the chain struggled to make its breakfast program successful, and few locations are serving breakfast now. One difference with McDonald's: It's not coming out with a new sandwich, it's just inviting consumers to pay more to upgrade already-popular breakfast items, which is one way to increase the value of the check.
Before it's here, it's on the Bloomberg Terminal.
LEARN MORE