Kerry Remark Opens Alternative to U.S. Attack on Syria
Terry Atlas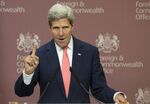 A comment about Syria's chemical weapons by Secretary of State John Kerry that aides said was merely rhetorical may give U.S. President Barack Obama a way to postpone or avoid an attack on Syria that most Americans oppose.
Events took an unexpected turn after Kerry said yesterday U.S. strikes could be averted if Syria quickly hands "every single bit" of its chemical weapons to international control. Russian Foreign Minister Sergei Lavrov, after meeting in Moscow with his Syrian counterpart, quickly embraced the idea.
"It could be the answer," said Representative Tom Rooney, a Florida Republican who's on the House intelligence committee.
Obama now faces a new twist in what's been an uphill battle to sell his Syria policy to the public and Congress, a campaign that's been plagued by conflicting explanations from different officials describing the objectives, the extent, the duration and the risks and benefits of any attack.
"I'm not convinced that the president's strategy lines up with the policy goals our country should have, or that the administration currently has realistic policy goals in Syria," Republican Senator Roy Blunt of Missouri said in a statement yesterday, saying he'll vote against authorizing an attack.
Even a supporter of military action, Republican Representative Mike Rogers of Michigan, chairman of the House Intelligence Committee, criticized the administration's presentation of its Syria policy as "a confusing mess."
Losing Ground
After repeated attempts to convince Americans of the need to strike Syria, the administration has lost ground. A poll released yesterday by the Pew Research Center found previously "undecided" respondents moving to "no." The poll conducted Sept. 4-8, found that 63 percent of Americans oppose air strikes, up from 48 percent a week earlier. Those in favor remained stable, dipping to 28 percent from 29 percent.
Republicans have turned sharply against a U.S. strike in Syria, according to the Pew survey. A week ago, they were narrowly divided: 35 percent favored and 40 percent opposed air strikes. Now, Republicans oppose air strikes 70-21 percent, with 51 percent calling themselves strongly opposed.
Confusion about Obama's objectives continued yesterday. While unnamed officials told reporters over the weekend that the administration was considering a more extensive attack on Syria, Kerry said in London yesterday that the U.S. is planning an "unbelievably small, limited" strike. That remark quickly raised alarm from Arizona Republican Senator John McCain, who called it "unbelievably unhelpful."
'Limited, Decisive'
As Kerry flew home from London, deputy national security adviser Antony Blinken told reporters at the White House that U.S. military action would be "limited but decisive".
The president and other officials also have said the sole objective of an attack would be to punish Syrian President Bashar al-Assad for using chemical weapons and deter him from doing so again. A resolution passed last week by the Senate Foreign Relations Committee authorizing such a strike, though, says the action also would aim to boost military capabilities of "vetted elements of Syrian opposition forces."
Republican Senator Lamar Alexander of Tennessee said yesterday in a Twitter posting that he would vote against an attack: "I see too much risk that the strike will do more harm than good."
The Russian proposal yesterday posed a new challenge to a White House team that maintains tight message control. Blinken said that Assad's track record "doesn't give us a lot of confidence," and White House spokesman Jay Carney expressed "some skepticism."
Stalling Tactic
The plan got a harsher reception from State Department deputy spokeswoman Marie Harf. Calling the move a stalling tactic, she told reporters that while the U.S. would welcome any effort to bring Syrian chemical weapons under international control, it doesn't believe Syria would comply with any plan to remove them. She added that Russia and Syria have lied for two years about the Assad regime's chemical arsenal.
Within hours, though, Obama in a round of network television interviews gave the Russian proposal a qualified endorsement as a potential breakthrough that resulted from the credible threat of a U.S. military strike.
Even as Obama's interviews were being aired, that threat appeared to grow less credible as Congress began stepping back at least momentarily from a vote to authorize military action.
Senate Democratic Majority Leader Harry Reid of Nevada put off calling a procedural vote on the use-of-force resolution, and Intelligence Committee Chairman Dianne Feinstein, a California Democrat, said she'd spoken with the Russian ambassador and believes the Russian proposal "is sincere."
'The Answer'
"There are people that are looking for any way to get out of this" vote, House Armed Services Committee Chairman Buck McKeon, a California Republican, told reporters.
Republican Senators McCain and Lindsey Graham of South Carolina, the strongest Senate advocates of strikes on Syria, said Congress should proceed with the votes because "only the threat of military action against the Assad regime's chemical weapons capabilities is what could create a possibility for Assad to give up control of those weapons."
The two senators, in a statement, expressed concern that "Russia and Syria will use this gambit as a way to play for time and continue the massacre of innocent men, women, and children."
A week ago, the Obama administration appeared to share their reservations, invoking moral arguments for a military strike on Syria as a response to an Aug. 21 chemical attack that U.S. officials blamed on Assad's regime.
An Ultimatum
Democratic Senators Joe Manchin of West Virgina and Heidi Heitkamp of North Dakota drafted an alternative resolution that would set a 45-day window for the Syrian government to endorse an international ban on chemical weapons and begin turning over its chemical weapons or face U.S. military action. According to a U.S. official who wasn't authorized to discuss internal deliberations, the administration last week considered and rejected issuing such an ultimatum to Syria.
Even with yesterday's push from Russia, any international plan to take control of Syria's chemical weapons would face enormous practical hurdles, including how to ensure that Syria surrenders all of its hidden nerve gas, and would buy time for Assad in his fight against rebels.
Locating all of Syria's hidden and constantly moving chemical weapons would be difficult in the middle of a civil war, said one U.S. official familiar with the issue, citing the long and fruitless search in Iraq for the chemical and biological weapons that the administration of President George W. Bush said Saddam Hussein had hidden.
Protective Force
That search, the official said, was conducted while U.S. and allied forces occupied Iraq, while international inspectors in Syria would need a protective force.
A second problem is the time it could take to win a United Nations Security Council agreement on a transfer and verification plan, the official said, speaking on the condition of anonymity to discuss the administration's choices. With Russia and China having veto power in the council, Assad could use months of debate to import more arms from Russia, Iran, China and North Korea and continue his offensive against the rebels.
Further, the official said, Assad has little or no incentive to surrender his chemical weapons now because it would be taken as a fatal sign of weakness inside his country. One possible incentive Russia could offer is more conventional weapons -- which would strengthen the regime's hand against the rebels and continue the killing.
Now, the burden of persuading Congress and the public to maintain the pressure on Assad falls to Obama, who's scheduled to address the nation tonight at 9 p.m. Washington time.
Before it's here, it's on the Bloomberg Terminal.
LEARN MORE