Fiat CEO Said to Skip Auto Show to Work on CNH Listing
Tommaso Ebhardt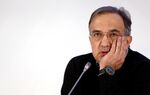 Fiat SpA Chief Executive Officer Sergio Marchionne will skip the International Auto Show, Europe's biggest auto event, to prepare for the listing of CNH Industrial NV in New York, a person familiar with the plan said.
Marchionne, 61, won't attend the Frankfurt show, where the Italian carmaker is not presenting any new models, to focus on the listing scheduled for later this month, said the person, who asked not to be identified discussing the CEO's schedule.
The new company is being created from the merger of CNH Global NV with its parent Fiat Industrial SpA. Marchionne will miss the show because of "unforeseen business commitments," Fiat said today, declining to elaborate. Fiat shares closed up 6 percent in Milan trading.
Marchionne, who will also be the CNH Industrial chairman, is missing a major auto show in the region for the first time in recent years. Fiat Chairman John Elkann will also not be in Frankfurt, the automaker said. Marchionne has grabbed media attention at past car shows with off-the-cuff comments and public sparring with Volkswagen AG.
The CEO said in July he wanted to list the truck and tractor maker in New York by the end of September. CNH Industrial was planning to hold a roadshow with investors early this month, Marchionne said at the time.
Chrysler IPO
Shareholders of Fiat Industrial, which makes Iveco trucks, and its 88 percent-owned subsidiary CNH, which builds Case and New Holland bulldozers and tractors, approved the merger in July. The combination is part of Marchionne's strategy to improve the company's growth prospects by shifting focus to the U.S. market. Fiat spun off Fiat Industrial in 2011.
The executive, who is also CEO of Chrysler Group LLC, is also preparing for a potential initial public offering of the U.S. automaker to comply with a request by a union retiree health-care trust, Chrysler's minority shareholder.
Fiat rose 35 cents to 6.16 euros at the close of trading. The stock has gained 63 percent this year, valuing the manufacturer at 7.7 billion euros ($10.2 billion).
The Italian carmaker isn't showing new models from its mass-market brands at the show as Marchionne holds back on investments in the midst of the sixth straight annual decline in European auto demand. The CEO instead is pushing production of more upscale cars from the Maserati and Alfa Romeo nameplates, which will come to market in the coming years, to export from Italy.
Marchionne canceled two press events tomorrow, Fiat said. The executive won't attend a Sept. 11 meeting of the ACEA industry group, said a representative of the organization said.
The Italian CEO, who grew up in Canada, made headlines at the Paris car show last year as he emerged from an ACEA meeting shaking hands with Volkswagen CEO Martin Winterkorn, ending months of tension between the carmakers.
Before it's here, it's on the Bloomberg Terminal.
LEARN MORE