A $40,000-an-Hour Fee, Lawsuits Rock Artist Foundations
Katya Kazakina and Philip Boroff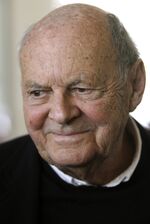 How did the artistic legacies of Motherwell, Rauschenberg and Twombly turn into the gunfight at the O.K. Corral?
The philanthropic mood at some artist-endowed foundations, a fast-growing niche among charities, has given way to rancor rife with accusations of salaries too high and fees unaccounted for or unjustified. Current or former trustees of at least three foundations have embroiled the nonprofits in legal actions.
"The private foundation world is a wild, wild west," said Trent Stamp, executive director of the Los Angeles-based Eisner Foundation and founding president of Charity Navigator, which evaluates nonprofits. "There's an opportunity for great abuse."
Almost half of the approximately 300 artist-endowed foundations in the U.S. were formed from 1996 to 2005, according to a study by the Aspen Institute. Assets more than tripled in that decade, and the top 127 reported having a combined $2.7 billion as of 2008.
Set up by an artist to support favorite causes, the foundation's net worth generally comprises liquid assets and artworks. A board of directors, some appointed by the artist, oversees the operation. Donors receive a tax deduction of as much as 39.6 percent. Some of these operations focus on making grants. Others engage as well in direct charitable work such as research, public education, conservation and exhibitions.
Self-Reporting
Most private foundations play by the rules, said Pamela Mann, chairwoman of the tax-exempt organizations group of the law firm Carter Ledyard & Milburn LLP. Spotting ones that don't isn't easy, she said, because the Internal Revenue Service relies on self-reporting.
Red flags include high executive pay and high administrative expenses, she said. On its website, the IRS calls pay reasonable when it reflects "the value that would ordinarily be paid for like services by a like enterprise under like circumstances."
Dedalus Foundation
The Dedalus Foundation, established by the abstract-expressionist painter Robert Motherwell (1915-1991), is hardly the richest of these charitable organizations. In 2011, assets were $53 million. By comparison, the Andy Warhol Foundation for the Visual Arts reported $317 million in assets during the fiscal year ended April 30, 2012.
Jack Flam, the president and chief executive of Dedalus, earned $470,143 in 2011, topping Warhol Foundation President Joel Wachs at $433,664. Flam had the highest listed compensation among 20 artist foundations with assets of more than $50 million. They include those endowed by Roy Lichtenstein, Willem de Kooning, Richard Avedon, Alexander Calder, Donald Judd, and Jackson Pollock and Lee Krasner.
In 2011, Dedalus paid its top two executives, Flam and Executive Director Morgan Spangle a total of $773,195 including benefits, 5 percent more than its grants and gifts.
"Bob would be turning in his grave," said Dore Ashton, an art critic and longtime friend of Motherwell who resigned from the Dedalus board in 2012, in an interview. She said she was concerned about how the foundation was managed.
As an operating foundation, whose main charitable activity is preserving Motherwell's legacy and fostering understanding of modern art and modernism, Dedalus doesn't have to make grants, Flam said.
"The foundation was not set up with any obligation to give away money," he said during an interview in its new 14th-floor midtown Manhattan office overlooking Norman Foster's Hearst Tower. "We can give zero and still be within our parameters."
Catalog Work
Since 2001, according to foundation officials, the heart of Dedalus's direct charitable work has been creating Motherwell's catalogue raisonne.
The three-volume, $200 tome published by Yale University Press in 2012 took 11 years to complete. About 25 people worked on it at various times, said Spangle, who was interviewed jointly with Flam.
In 2006, Flam, an art historian and critic, took on an additional role overseeing the project. His compensation jumped by a third that year, and has included pay for the catalogue raisonne since then, he said.
"I don't know anyone who works harder than I do," said Flam, adding that his responsibilities include managing Motherwell's literary rights and copyrights, as per the artist's will.
Serious Fraud
In 2007, the foundation through the catalogue raisonne project concluded that paintings attributed to Motherwell from dealer Glafira Rosales were most likely forgeries, the foundation said in papers filed in 2011 in Manhattan federal court. Rosales was arrested in May. Accused of conspiring to sell $30 million in fake works, she pleaded not guilty.
The foundation played a role "in exposing the most serious art fraud in United States history," Perry Amsellem, a lawyer for Dedalus, said in an e-mail.
Dedalus board member Joan Banach sued the foundation after losing a job that Motherwell promised had a lifetime guarantee, according to her 2009 complaint filed in New York Supreme Court.
Banach was Motherwell's assistant for 10 years and he left her $200,000 in his will, filed in Fairfield County, Connecticut, probate court. After his death she spent 17 years at the foundation and was fired after she questioned Flam's authentication of Motherwell's artworks, she said in the complaint.
In a complaint filed against Banach, Dedalus said it fired her after she sold more than $93,000 of Motherwell art she improperly obtained. She said in court papers that Motherwell gave her the works.
All but one of Banach's seven claims were dismissed in May 2010, according to court papers. In January 2012, six of Dedalus's 12 counterclaims were dismissed and three were in part. The two parties are to meet for mediation on Sept. 11, Lee Bantle, Banach's lawyer, said in an interview.
Cy Twombly
The Cy Twombly Foundation had assets of $67 million in 2011, the year the artist died, at age 83.
In March this year, the foundation sued Thomas Saliba, its treasurer and a director, for breach of fiduciary duty. He received almost $310,000 in fees for investment management in 2012 that the foundation's president and vice president didn't authorize, according to the complaint filed in Delaware Chancery Court.
Saliba isn't registered as an investment adviser in New Hampshire, where he has an office, or with the U.S. Securities and Exchange Commission, the foundation said in court papers.
New Hampshire's secretary of state has investigated Saliba's failure to register, the foundation said in its complaint. Jeffrey Spill, deputy director of the state's bureau of securities regulation, declined to comment.
Parsing Fees
The foundation's suit also said Saliba was assisted in getting the fees by Ralph Lerner, a foundation director and art-law specialist.
Lerner said in an interview that Saliba received a legal opinion that registration wasn't required. David Baum, outside counsel for the foundation, said in an interview that Saliba solicited an opinion after he was confronted by the president and vice president.
The foundation is Saliba's sole client, Lerner said. The lawyer approved the fee without informing the rest of the board, according to the foundation's complaint.
"Mr. Saliba has always managed the foundation's assets and has done so with the board's informal consent," Lerner said in a petition filed in Delaware to appoint a custodian to break a "deadlock" among the four directors.
Baum said Saliba invested foundation money before 2012 but wasn't paid management fees. "The real issue is consent," Baum said in the interview.
Nicely Paid
Also, Lerner paid $690,000 to his law firm, Withers Worldwide, in 2012 and 2013 without board authorization or producing any bills, Baum said in court in May, according to a transcript. Lerner said the fees were proper and referred questions about them to Matt Neiderman, a lawyer who represents him and Saliba. Neiderman didn't return calls.
In the May hearing, Judge Donald Parsons Jr. called it a dispute "among people who are working for a charitable foundation, all of whom seem to be getting paid fairly nicely." He went on to criticize Lerner and Saliba for denying repayment of business expenses, such as about $15,000 for the vice president, Julie Sylvester.
Denying the expenses "is really off the reservation," the judge said.
Robert Rauschenberg
The Robert Rauschenberg Foundation is at the top of artist foundations, with assets of $381 million as of May 2012.
The artist died in 2008 at 82. In 2012, the Rauschenberg Revocable Trust transferred assets valued at $326 million to the foundation, which supports artist projects, educational programs and environmental initiatives, according to its latest publicly available tax return.
The three trustees of the trust paid themselves almost $10 million in compensation, commissions and professional fees without foundation authorization from 2008 to 2011, according to papers filed last month in New York Surrogate's Court.
One of the three is Darryl Pottorf, an artist and longtime assistant to Rauschenberg and a now-former director of the foundation. He was paid $2.3 million for three years spent running an entity that manages Rauschenberg art, according to court papers. The foundation's tax returns for that period list his pay as zero.
The foundation is challenging a claim filed by Pottorf and the two other now-former directors in Florida circuit court for a total of at least $60 million in trustee fees, according to the complaint.
In an August 2012 deposition, Pottorf called $60 million reasonable because of his many sacrifices.
Money Lost
Pottorf cited "the loss of money of my own and the damage of my career."
A $60 million fee implies a $40,000 hourly rate, said Laird Lile, a Florida trust and estates lawyer, in an affidavit. "Generously speaking," he writes, they might have spent 1,500 hours administering the trust. Michael Gay, a lawyer for the trustees, didn't return calls.
In a reporter's call seeking Pottorf's response to Lile's statements, a man who identified himself as Mark Pace, Pottorf's assistant at his studio on Captiva Island, Florida, said Pottorf wouldn't come to the phone.
"For my dad, philanthropy was fundamental," Christopher Rauschenberg, the artist's son and the foundation's president, said in a statement. "We do not think his philanthropic intentions should be eroded through the payment of tens of millions of dollars to the people he entrusted to implement his wishes."
Muse highlights include Elin McCoy on wine and Greg Evans on TV.
Philip Boroff in New York at pboroff@bloomberg.net
Before it's here, it's on the Bloomberg Terminal.
LEARN MORE