Wrigley Field's Planned Renovation Threatens a Chicago Rooftop Tradition
Wrigley's planned renovation threatens a Chicago rooftop tradition. But it's not over yet
By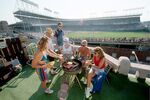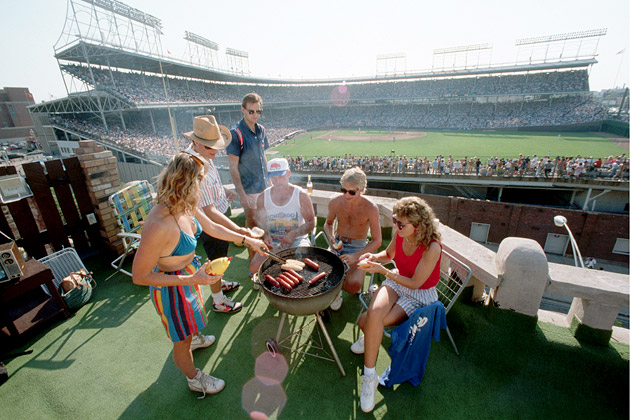 Eric Wolverton is drinking a beer at a Cubs game. Actually, near a Cubs game. As 40,500 people—a near-sellout crowd—settled into their hard plastic seats at Chicago's Wrigley Field, Wolverton perched on the bleachers on a rooftop across the street. He paid $124, roughly the cost of a field-level ticket at other Major League ballparks, for the privilege of cheering on the Cubs from atop 3643 N. Sheffield Ave., one of the 16 for-profit spectator spaces that make up the Wrigleyville Rooftops Association. The Cubs, who currently have the league's third-worst record, are playing the third in a four-game series against the Dodgers, who've already beaten them twice. "You don't go to a Cubs game to watch good baseball; you go to see Wrigley," Wolverton says, and the ballpark, he adds, is best viewed from above. "Everyone talks about how historic Wrigley is, how going to a game is like stepping back in time," he says. "And it is." "But," interjects Mike Gordon, Wolverton's friend and fellow Cubs die-hard, "that place is a dump."
Wrigley Field, built in 1914 on Chicago's north side, was once considered cutting edge; it was the first ballpark to include concession stands, the first to have an organist, and the first to allow fans to keep foul balls. But efforts to improve it have been largely unsuccessful, getting mired in fan outrage and the Windy City's unique brand of nostalgia-driven politics. Wrigley was the last big-league ballpark to install lights for night games, in 1988, and even that inspired fierce resistance from the Chicago City Council and a group of activist fans called C.U.B.S. (Citizens United for Baseball in the Sunshine). That six-year battle, for essentially the right to host games after working hours, fell in the Cubs' favor after the team threatened to relocate to the suburbs.
In today's universe of sleek arenas filled with microbreweries, sushi bars, and Shake Shacks, Wrigley is a comic fogy, too stubborn to admit the world is changing around him. Since 1990, roughly 90 percent of teams in the top five sports leagues have rebuilt or renovated their stadiums, according to Crain's Chicago Business. Even Boston's 101-year-old Fenway Park has a new concourse and LED scoreboards. Sure, it's cool that Wrigley's original scoreboard is still operated by hand. But its wooden roof is not up to fire code. Parts of the upper deck are wrapped in netting to keep the crumbling concrete from falling onto fans. All told, the Cubs spend $15 million a year repairing odds and ends that continually break.
That's why, for the past eight months, Cubs owner Tom Ricketts has pushed the city of Chicago to let him renovate. In July, he finally got the approval he needed. Ricketts doesn't just want to fix up Wrigley; he wants to transform it into a modern entertainment complex, flanked by a hotel and a 20,000-square-foot shopping center. Also included in the $500 million plan—which the Ricketts family is bankrolling itself, with the help of a few tax breaks from the city—is a 5,700- sq.- ft. JumboTron that would be placed in left field, obscuring some rooftop views. A smaller, 650-sq.-ft. sign would do the same in right field, where Wolverton and his friends are sitting right now.
More than a fun-loving tradition is at stake. A Greek immigrant named George Loukas started the Wrigley rooftop trend in 1974, when he bought a dilapidated apartment building on Sheffield Avenue for $135,000. "I started with a Weber grill on the roof," he told the Chicago Sun-Times in 2011. Loukas's cookouts caught on, and by the early 2000s the apartments around the perimeter of Wrigley's outfield had developed into a cottage industry, complete with liquor licenses and catered buffets. In addition to several popular neighborhood bars, like the Sports Corner and the Cubby Bear, Loukas owns several buildings near Wrigley, including three rooftops with party decks. The Illinois State Journal-Register dug up Cook County records showing the properties' combined market value at more than $60 million.

"When it was just some guys grilling hot dogs we thought, 'OK, that's cool,' " says Cubs spokesman Julian Green, "but when they started charging for tickets, things changed." Rooftop tickets can run more than $400, depending on the opposing team and the time of year. In 2004, after being sued by the Cubs, the rooftop owners agreed to give the team 17 percent of their revenue if Wrigley promised not to restrict their views until at least 2023. Today, the rooftops generate about $25 million a year in ticket sales, roughly $4 million of which goes to the Cubs.
In 2009, Tribune Co. sold the team to Ricketts, who hasn't been as accommodating to his rowdy neighbors. Within a year, a 360-sq.-ft. Toyota sign had risen over left field. And when the revenue-sharing deal with the rooftops ends in 2023, it'll be an advertising free-for-all. "When the 10 years are up, we'll put up more signs," Green says. "It's a certainty."

Under Ricketts's $500 million plan, only a few of the rooftops will have partially obscured views—down from the near black-out included in the original proposal—but the promise of future signs has Wrigleyvillers prepping for a fight. Over the past decade they've donated more than $171,000 to local alderman Tom Tunney, who has been consistently in their corner, urging his colleagues to reject Ricketts's proposals. In April, Tunney suggested an alternative: Instead of adding new signs that would block existing views, the Cubs should consider ditching its landmarked center field scoreboard and installing a new high-definition one of comparable size. Tunney declined to be interviewed for this article. (The association's lawyer wouldn't let the owners, including Loukas, comment either because, he says, they're preparing litigation.) The Cubs, meanwhile, are trying to talk them out of going to court. Ricketts would like to start construction on Wrigley as soon as the 2013 season is over. (As usual, the Cubs won't be playing in October.) But "Mr. Ricketts won't so much as order a shovel until an agreement with the rooftops is reached," says the Cubs' Green.
Despite an abysmal record last year—they lost 101 games—the Cubs commanded the third-highest ticket prices, behind only the New York Yankees and the Boston Red Sox. They're the fourth-most valuable team in Major League Baseball, according to Forbes. Their problem isn't lack of money, so much as lack of talent, which is why it's odd to hear Green claim that an extra $10 million to $20 million from the JumboTron will bring a championship. "If this plan is approved, we will win the World Series for our city," Ricketts promised in April, a promise he's almost certain to regret. The Cubs last won a championship in 1908. "One of the things the Cubs keep saying is, 'We need this JumboTron money in order to win.' OK, you've got it, now win," says Al Yellon, editor of the blog Bleed Cubbie Blue.
Today, it's not going to happen. The Dodgers beat the Cubs by 3, but nobody really seems to care. "Oh, come on!" shouts Lauren Mutari halfheartedly from the rooftop, where she's celebrating her bachelorette party with seven girlfriends. "We bought about $1,000 worth of tickets and actually wrote it into our contract that if something was obstructing our view we wanted our money back," she says. "When the signs go up, we won't be here."