Will AT&T Try to Buy Vodafone?
Selling its Verizon stake could put the British company in play
By and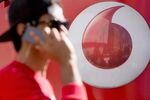 In the wake of Verizon's agreement to buy Vodafone's 45 percent stake in Verizon Wireless for $130 billion, Europe's biggest mobile phone company could draw attention from suitors such as AT&T, SoftBank, or another company looking to expand in Europe. "They leave themselves small enough to be a very attractive target," says Robin Bienenstock, an analyst at Sanford C. Bernstein. "AT&T has made it clear that they're interested in European wireless assets, and SoftBank has made it clear that it wants to be big."
AT&T, which has scoured Europe for potential acquisitions this year, will consider buying what's left of Vodafone after the Verizon Wireless deal, people briefed on its strategy say, asking not to be named discussing internal deliberations. AT&T could pay about £80 billion ($124 billion) for Vodafone, according to Bienenstock. The company will still have large mobile operations in countries such as the U.K., Germany, Italy, and India, along with subsidiary Vodacom, one of Africa's biggest mobile telephone companies.

AT&T has examined takeover candidates, including Vodafone, U.K. mobile carrier EE—a venture of Deutsche Telekom and France's Orange—and parts of Spain's Telefónica, people familiar with the company's plans said in June. AT&T's likely strategy for Vodafone would be to speed the rollout of faster, fourth-generation networks, which are not yet widely available in Europe, according to James Barford, a telecommunications analyst at Enders Analysis in London. Brad Burns, a spokesman for AT&T, declined to comment on any potential M&A targets. Ben Padovan, a spokesman for Vodafone, declined to comment on whether the carrier may become a takeover candidate.
Vodafone may have other plans. To revive its business in Europe, where wireless mergers are hampered by regulation, Vodafone Chief Executive Officer Vittorio Colao has acquired land-line operations, agreeing in June to pay $10 billion for Kabel Deutschland Holding, Germany's largest cable-television provider. Last year, Vodafone bought Cable & Wireless Worldwide, an operator of U.K. fixed-line networks, for $1.6 billion. Vodafone was also considering buying Italy's Fastweb, a broadband provider, people familiar with the deliberations said in June.
The Verizon Wireless stake sale will not create a huge war chest for Vodafone. Of the $130 billion Verizon is paying, Vodafone investors are getting about $84 billion in cash and Verizon shares. Vodafone is using $20 billion of the proceeds to pay down debt. The company has said it will spend money on Project Spring, an initiative to bulk up its high-speed mobile and broadband networks in Europe and emerging markets. In the end, Vodafone will have about $15 billion for acquisitions—not enough to do the kind of transformative deal that would insulate the company from a takeover, according to Bienenstock.
Expansions into fixed-line businesses have two primary advantages for mobile operators. Selling so-called triple- and quadruple-play packages that combine mobile, land-line, TV, and broadband services makes customers more reluctant to upend their entire digital lives by switching providers. Owning high-capacity fiber-optic networks helps carriers deal with the demands of surging mobile-data traffic. "Both the U.S. and European telecommunication markets stand to face some tough competition with the increasing move toward converged, triple-play offers," says Ronald Klingebiel, a professor at the Warwick Business School in England. "To weather these impending storms, Vodafone is right to sell the stake so it can concentrate on its priority markets in Europe."