Innovation: A Startup's Faster, Cheaper Way to Build Bridges
Building bridges just got faster and cheaper
by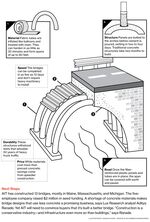 Innovator: Habib Dagher
Age: 54
Title: Co-founder of Advanced Infrastructure Technologies
 
Form and function: Lightweight tubes made of fiber-reinforced plastic are strong enough to support a roadway after they're filled with concrete. The tubes then protect the concrete from weather and salt, and the spans can be built faster than traditional bridges.
Before it's here, it's on the Bloomberg Terminal.
LEARN MORE