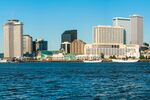 Sean Cummings has developed 18 projects in New Orleans, including condominiums, hotels, and luxury lofts with floor-to-ceiling windows at a former rice processing plant. Up next: a residential complex planned for a weed-choked lot currently home to an abandoned school bus. "New Orleans was once unappealing to many investors because it was thought of as a giant bar," says Cummings, chief executive officer of developer Ekistics, about his native city. Today, "more and more people choose the city for its quality of life. It's sexy, it's vibrant, it's full of life."
Eight years after Hurricane Katrina flooded 80 percent of the city and displaced 400,000 residents, New Orleans has become one of the fastest-growing U.S. commercial real estate markets. Luxury housing, retail, and office projects are under way in a construction boom sparked by $120.5 billion in federal aid that helped restore the city's infrastructure, including shoring up levees and building new roads. Tourism spending is at a record, fueling hotel demand, as visitors flock to the home of the Jazz and Heritage Festival and Mardi Gras. Treme, a television drama about the aftermath of Katrina, was shot on location, and Louisiana is now the third-most-popular filming destination in the U.S., after California and New York, according to the New Orleans Mayor's Office of Cultural Economy.
This year through May, commercial real estate transactions in the Big Easy totaled $424.7 million, up 41 percent from $301.1 million in all of 2012, according to Real Capital Analytics. New Orleans was the only U.S. market among 55 tracked by the research firm in which sales have already surpassed last year's. "In the past 12 months I've seen a real shift," says Matthew Schwartz, principal and co-founder of developer Domain Companies, while sitting in the crowded Sazerac Bar at the Roosevelt New Orleans hotel. "The level of interest from institutional investors and private equity is pretty significant. They used to look at me in bewilderment when I talked about this city, asking me, 'Why New Orleans?' " Domain, based in New York, is developing a $200 million mixed-use project near New Orleans's burgeoning medical and arts districts. The first phase—a five-story apartment, restaurant, and retail building known as the Paramount at South Market—broke ground in June and is scheduled for completion late next year.
Interest from investors "started to slowly emerge probably right when the national economy went down in 2010," says Henry "Skip" O'Connor Jr., a lawyer and real estate investor who developed nine Marriott-branded hotels in the city. "We were a world apart from the national economy with all that federal money coming in. Back then, New Orleans, maybe for the first time, started to look like a good idea."
Signs of recovery can be seen even in districts such as the Lower Ninth Ward, where Katrina caused the most devastation and death. The area, once crowded with dilapidated wooden houses that were destroyed when the levees broke, now has fewer, newer homes after reconstruction with the help of federal funds. Resurfaced streets run past new single-family houses and gated townhouse communities.
Even so, the New Orleans renaissance hasn't benefited everyone equally, says James Perry, executive director of the Greater New Orleans Fair Housing Action Center. "The majority of the investments post-Katrina have been in the neighborhoods that have suffered the least damage, and they tend to be the neighborhoods with the highest income and the neighborhoods that are the least diverse," he says. "The hardest-hit, low-income, majority African American neighborhoods are suffering dramatically and are nowhere near recovery."
Before it's here, it's on the Bloomberg Terminal.
LEARN MORE